McLaren upgrade vital for title fight
| | |
| --- | --- |
| By Jonathan Noble and Pablo Elizalde | Tuesday, July 6th 2010, 11:05 GMT |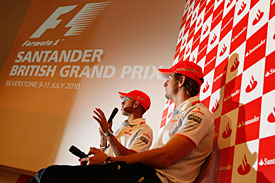 Jenson Button and Lewis Hamilton believe it is crucial that the updates McLaren will introduce for this weekend's British Grand Prix work well in order for their team to stay in the championship fight.
Although both Hamilton and Button finished on the podium in the previous race in Valencia, it was clear that Red Bull remained the car to beat, with Sebastian Vettel taking a commanding win.
McLaren will have significant updates for this weekend's race at Silverstone, including a blown rear diffuser like the one used by several rivals already.
Button thinks it is vital to make the new package work as soon as possible.
"I think if you saw the last race, a few cars had new parts and mostly this special blown diffuser that Red Bull rocked up with at the start of the season," Button told a press conference with British GP title sponsor Santander.
"They have been working on their update kits and they are a race ahead of us. They came out very strong but I still think we did a very good job in Valencia to get two cars on the podium.
"Here (at Silverstone) we do need to raise our game. We do need to add performance to the car if we are going to challenge the Red Bulls and a couple of other teams, so putting these new parts on the car, it is not just going to be putting them on and going fast, we have to work with the new balance of the car and what the updates give us - but it is a challenge.
"It is something we have got to do if we want to keep fighting for this championship."
When asked how important the upgrade package was for the championship, he added: "It is very important for the rest of our season. They don't always work when you first put them on the car. As we saw with a couple of teams in Valencia who had an update package, you need to work on it.
"Hopefully we will get it all right for this weekend, it has to be our aim and you cannot hope it will be okay for the next race. You cannot give a race away this year, you have to be consistently fighting at the front so it is very important.
"I don't want to think about it if it doesn't work, but if it doesn't work then I am sure we will have something as soon as possible. It goes in the wind tunnel, it goes in the simulator, it is tested many times before it goes on the circuit but there is always fine tuning you need to do over a race weekend. It will be a busy Friday/Saturday, I think."
Team-mate Lewis Hamilton also reckons the new parts have to start delivering more performance right away if McLaren is to stay in the title battle.
"We have to make sure we make these components work this weekend," Hamilton said. "We haven't had time to test them really so there has to be some adjustments made to the car, and how we have to drive it to get the optimum.
"We are looking forward to it. We don't know how much the package will deliver, it doesn't always bring what you expect, so we have to see which parts work and which pasts don't."