Renault to decide on development push
| | |
| --- | --- |
| By Jonathan Noble | Monday, July 5th 2010, 10:56 GMT |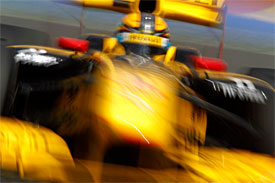 Renault will decide in the next few weeks whether to push on with its aggressive development push on the current R30, or to start shifting its focus towards making the most of next year's car.
With the outfit expecting a season-long duel with Mercedes GP for fourth place in the Constructors' Championship this year, team principal Eric Boullier has admitted that tough decisions will have to be made soon.
And although the foundations of Renault's impressive progress this season has been built on an intense push for updates onto its current challenger, Boullier concedes it would be foolish to keep that up if it risked not making the most of its 2011 chassis.
Speaking about the development strategy for the second half of the season, Boullier said: "The strategy will certainly be different compared to the start of the year, although it's clear we need to keep pushing hard because we're still not quick enough to challenge for pole and race wins.
"And we know that we need to keep up this work rate because Formula 1 is so competitive these days and all our competitors are working hard to improve their cars as well.
"But at the same time it's important that we look ahead to next year and we must not neglect the development of the 2011 car, which is already well underway. We need to find the right balance of resources and that is a decision we have to make in the coming weeks."
Renault is just 20 points behind Mercedes GP in the Constructors' Championship, and has openly set its sight on overhauling the reigning champions.
"The battle with Mercedes is a fight that I expect to last throughout the season," explained Boullier. "They are a very strong competitor and it would be wrong to underestimate them.
"They have two very good drivers and they are ahead of us in the championship so it's clear that we will have to work hard to beat them. Obviously they were missing some performance in Valencia, which was a surprise, but I don't think they will underperform at every race. So it was important that we took points off them because I know they will fight back."
Boullier has also called for improved consistency from Vitaly Petrov over the remainder of the campaign, in a bid to ensure he can help deliver the points that Renault needs for its battle with Mercedes GP.
"Although he has half a year of F1 under his belt, we have to remember that compared to some of the other rookies he has a lot less F1 experience," he said. "Drivers like [Nico] Hulkenberg and [Kamui] Kobayashi completed lots of testing miles in previous seasons, whereas Vitaly only drove an F1 car for the first time in February this year.
"So I know it has been an incredibly steep learning curve for him, but already he has shown on several occasions that he has the speed and can be close to Robert's pace. What we need to see now is more consistency over a weekend without any mistakes."
"This is what I expect from him in the second half of the season so that he is regularly in Q3 and scoring points in the races."