Vitaphone stays on top in main race
| | |
| --- | --- |
| By Gary Watkins | Sunday, July 4th 2010, 14:39 GMT |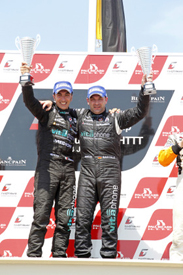 Vitaphone Racing dominated the full-points race at the Paul Ricard FIA GT1 World Championship event.
The #1 Vitaphone Maserati MC12 driven by Andrea Bertolini and Michael Bartels followed up on its win in Saturday's qualification race in the championship round. Bertolini lost out to fellow front-row starter Peter Kox at the start, but moved to the front when the Reiter Lamborghini driver was adjudged to have jumped the start and awarded a stop-go penalty.
The Bertolini/Bartels Maserati would almost certainly have come under pressure from its two closest pursuers had they not clashed on lap 10. Andrea Piccini, driving the solo Phoenix/Carsport Chevrolet Corvette, tangled with Vitaphone driver Enrique Bernoldi at the final corner, putting the Maserati out of the race and earning his car a stop-go.
Bartels crossed the line with more than seven seconds in hand over the Sumo Power Nissan driven by Michael Krumm and Peter Dumbreck to claim what he called "a great victory".
"It looked easy, but the conditions out there were quite difficult," said Bartels. "It was all about looking after the tyres today."
The Sumo Power Nissan came from ninth on grid to claim its second podium finish in two events. Krumm brought the car into fourth place before the pitstop sequence began and then Dumbreck overtook Thomas Mutsch in the best of the Matech Fords for third and moved up to second when Phoenix/Carsport driver Marc Hennerici took the stop-go for Piccini's earlier indiscretion.
Third place went to veteran Altfrid Heger and Alex Margaritis in the quickest of the Hegersport Maseratis. Bas Leinders and Maxime Martin came through from the 10th row to claim fourth in their Marc VDS Ford GT.
Pos  Drivers                 Team          Car               Time/Gap
 1.  Bertolini/Bartels       Vitaphone     Maserati      1h00m30.245s
 2.  Krumm/Dumbreck          Sumo Power    Nissan            + 7.057s
 3.  Heger/Margaritis        Triple H      Maserati         + 24.633s
 4.  Leinders/Martin         Marc VDS      Ford             + 26.209s
 5.  Piccini/Hennerici       Phoenix       Corvette         + 29.670s
 6.  Hezemans/Maassen        Mad-Croc      Corvette         + 35.824s
 7.  Grosjean/Mutsch         Matech        Ford             + 46.178s
 8.  Hughes/Campbell-Walter  Sumo Power    Nissan           + 54.364s
 9.  Makowiecki/Accary       Hexis         Aston Martin     + 56.699s
10.  Zonta/Daniel            Reiter        Lamborghini      + 57.226s
11.  Bobbi/Longin            Triple H      Maserati       + 1m04.943s
12.  Schwager/Pastorelli     Munnich       Lamborghini    + 1m05.405s
13.  Hirschi/Piccione        Hexis         Aston Martin   + 1m11.342s
14.  Kuppens/Palttala        Marc VDS      Ford           + 1m14.776s
15.  Wendlinger/Moser        Swiss         Nissan         + 1m17.780s
16.  Turner/Enge             Young Driver  Aston Martin   + 1m23.897s
17.  Bouchut/Basseng         Munnich       Lamborghini    + 1m26.100s
18.  Kox/Haase               Reiter        Lamborghini    + 1m47.230s
19.  Gavin/Kuismanen         Mad-Croc      Corvette       + 1m47.240s
20.  Nygaard/Mucke           Young Driver  Aston Martin   + 1m53.704s

Retirements:

     Panis/Gachnang          Matech        Ford          17 laps
     Bernoldi/Ramos          Vitaphone     Maserati      10 laps
     Ara/Nilsson             Swiss         Nissan        9 laps