Earnhardt claims emotional win
| | |
| --- | --- |
| By Diego Mejia | Saturday, July 3rd 2010, 07:40 GMT |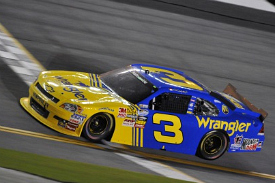 Dale Earnhardt Jr claimed a special victory in the NASCAR Nationwide Series at Daytona on Friday, driving the legendary #3 car made popular by the his late father.
Between 1984 and 1987, Dale Earnhardt Sr drove the #3 Wrangler Jeans Chevy for Richard Childress Racing, which he took to victory 22 times at NASCAR's top level, although none of them at Daytona.
Running that same paint scheme, Earnhardt Jr drove on Friday night at Daytona to honour the memory of his father, pleasing his legion of fans after claiming his first Nationwide win since 2006.
The event was the first for the new generation of Nationwide car, which was given the thumbs up on its debut.
NASCAR's most popular driver had last won a points race in 2008, when he claimed his most recent Cup victory at Michigan.
"It was a real emotional win," said Earnhardt. "It was for obviously honouring my father, but race fans too. They were so supportive of him and still are today, so I want to thank them."
Earnhardt doesn't plan to run his father's number again. In order to do so this weekend with his JR Motorsports team, he had to get different parties to agree, including his stepmother and his father's widow Theresa, #3 owner Richard Childress and sponsor Wrangler.
"I'll never do it again," Earnhardt said. "I enjoyed it. I don't want to - it's hard for me, it's a bouncing act. But between [the media], the public and myself - my own feelings, looking at what is being put out there and how the public's feeling... It's real emotional for me preparing for it and putting it together.
"Hell, I just want to come race - I just like cool looking cars and this is a hell of a good-looking car. I always loved the scheme and that's all that mattered to me, I just loved the car. I wanted to race it once and I did.
"I ran the #3 before in the [Nationwide] series and everybody put a lot of stock in the fact that I was coming back like a lot of people did. I didn't approach it that way."
Earnhardt Jr ran up front for most of the 102-lap event, leading the last 33. In a green-white-checkered finish some of his rivals decided to pit for tyres, but his former Cup series crew chief Tony Eury Jr, who reunited with him for this event, made the call to stay out and remain in the lead, which he held through the finish line in the final two laps.
Earnhardt Jr will start Saturday night's Cup race from 13th on the grid. He claimed one of his 18 career wins in NASCAR's premiere series in the summer event at Daytona back in 2001, and expects his Nationwide win on Friday night to boost him for the weekend's main event.
"This helps my confidence. Winning always helps," Earnhardt added.