| | |
| --- | --- |
| Tired engine hampers Hayden | |
| | |
| --- | --- |
| By David Emmett and Matt Beer | Friday, July 2nd 2010, 18:02 GMT |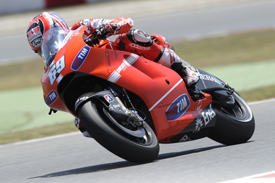 Nicky Hayden put his low-key performance in Catalunya practice down to both poor traction and having to initially use a bike with a fading engine.
Having lost one of his allocated engines to a failure at Assen last week, Hayden is now having to try and stretch the life of the remaining units.
But as he grappled with a tired engine at the start of today's session, the American languished near the tail of the field, and only got into the top ten when he changed bikes.
"Because we lost the engine last week, we have to manage that, and here in the heat the first bike I was on was getting towards the end of its life and I was feeling that a lot more here than at Assen," said Hayden. "But at the end of the session I was on the other bike and that seemed to help a lot."
He expects to alternate between the two bikes tomorrow as well to try and make the best of his engine mileage.
Hayden also felt that a lack of traction had contributed to his slow times. He ended the session in eighth.
"We struggled to get any traction in the beginning," he said. "Through the long corners there was just no grip from the rear.
"Towards the end of the session we changed to the soft tyres and a softer shock, which helped quite a lot for the traction but then started to push the front, so we've got to figure that out."