Harvick hails best ever title chance
| | |
| --- | --- |
| By Diego Mejia | Wednesday, June 30th 2010, 09:21 GMT |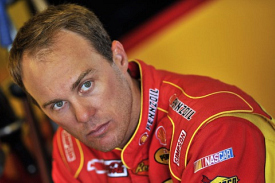 NASCAR Sprint Cup points leader Kevin Harvick expects to make the most of what he believes to be his best shot ever at the title this year.
The Richard Childress Racing driver, who failed to make the Chase in 2009, has been at the top of the standings for most of the year and currently holds a 105-point lead over reigning champion Jimmie Johnson.
The 34-year-old Californian won his first race in more than three years last April at Talladega, after passing Daytona 500 winner Jamie McMurray on the last lap. Despite having only one victory to his name versus Johnson's and Denny Hamlin's five thus far, he believes he is in great shape to contend with them for this year's title.
"This is the best opportunity we've ever had to win a championship," said Harvick. "I feel like the ball is in our court. Obviously you're going to have to knock off Jimmie. Those are the guys that have made it happen in the Chase and been consistent and won races and done what they have had to do over the last 10 weeks.
"Until somebody proves they can do that, those are the guys that you have to beat and they have done that the last couple of weeks.
"We have plenty of time to prepare for it and hopefully, if we do a good job as we have done to this point, we can step it up and do what we have to do."
Harvick believes he needs to win at least twice during the season's play-off in order to be in contention for the title come the season finale. He says his team needs to avoid not finishing races or scoring poor finishes like they did at Martinsville, one of the races in the Chase, where brake issues left him 35th back in March.
"I think you're going to have to win one or two races in the Chase to be in contention, but you can't have those disasters," Harvick said. "We had a 100-point disaster at Martinsville with a brake failure. Obviously you can see the DNFs that the #11 and #48 have had.
"You have to prevent those DNFs from happening, and you have to prevent those 35th to 40th place finishes. It used to be a 12th place finish would win; I think you have to be seventh or eighth, average, in the last 10 races to make it happen."
Harvick, a two-time Nationwide series champion, has finished fourth twice in the Cup standings, which is his best placing in the championship to date.
In 2006 he claimed five wins and started the Chase with a victory, but an engine failure in the following race hampered his chances of winning the title, which went for the first time to Johnson.