Montoya hits out at Gordon
| | |
| --- | --- |
| By Diego Mejia | Monday, June 28th 2010, 05:48 GMT |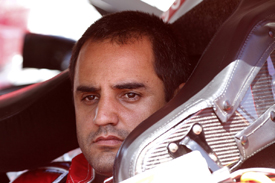 Juan Pablo Montoya blamed Jeff Gordon for his debacle in the closing stages of Sunday's NASCAR Sprint Cup race at Loudon, which he had led from pole position early on.
The Earnhardt Ganassi driver led the race for the first 36 laps before the first round of pitstops dropped him to fifth as different strategies came into the play. He eventually moved back up to second and raced inside the top five for most of the afternoon.
Montoya was running third before the second caution of the race came out and when the leaders pitted he dropped behind Gordon and his Hendrick Motorsports team-mate Jimmie Johnson.
The Colombian tried to recover on the track what he lost in the pits, but ended up in a heated battle with Gordon for fifth place, that ended with contact between the two and some damage to the right-front bodywork of Montoya's Chevrolet.
A few laps later he made contact with Clint Bowyer and AJ Allmendinger, before his race ended against the wall following an incident with Reed Sorenson with 18 laps to go.
"The guy that really messed me up was the #24 [Jeff Gordon]," said Montoya following his fifth retirement of the season.
"Everything started with a bad stop. We had a bad stop and you end up a little bit further back than you have been all day. It was the end of the race and nobody gives you any room and that is what happens..."
"[Gordon] just didn't give me any room, he never does. He has it coming one day."
Montoya reckons Gordon's driving in the closing laps hurt both their chances of fighting for victory.
"It is just hard because it is 20-40 laps to go or whatever, and everybody wants the same piece of rubber," said Montoya. "I had been running in front of him all day and we had a faster car than him.
"He was just getting me really loose in the corner cause he was right against my door getting in. So it got me loose, so I actually bumped into him so actually both of us got hurt."
Gordon, who had been criticised by a number of drivers last week following the previous race at Infineon Raceway, eventually finished fourth, coming out unaffected from the exchange with Montoya.
"Well, that's just all the type of racing you're seeing these days," Gordon said. "Double-file restarts get really hairy and wild and crazy. It was a little bit eventful with us and the #42 [Montoya] there but we recovered."
Montoya's chances of making this year's Chase have taken another hit, as he now ranks 22nd in the standings, 183 points behind 12th-placed Carl Edwards with nine races to go before the cut.