Loudon returns to IndyCar for 2011
| | |
| --- | --- |
| By Diego Mejia | Sunday, June 27th 2010, 15:56 GMT |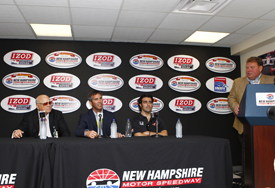 New Hampshire Motor Speedway will be back on the IndyCar Series schedule next year, officials announced during today's NASCAR event.
The one-mile, low-banked oval was last used for top-line American single seater racing in 1998, but IndyCar will return on 30 July 2011 for the first race of a three-year deal.
The Loudon track hosted four CART Indycar Series races before the split in 1996, when it went with the Indy Racing League. It dropped off the calendar after three events, the last of them won by Tony Stewart - who also won at the venue in NASCAR.
Its return will be welcomed given the dearth of short ovals on the current schedule. Following the loss of Milwaukee and Richmond, Iowa Speedway is the only short track on the 2010 calendar.
"We're pleased to restore an IndyCar short oval to the schedule to further increase our diversity of venues," said IndyCar boss Randy Bernard. "As evident last week in Iowa, our cars produce tremendous racing on short ovals.
"Additionally New Hampshire is strategically located in the Northeast, which fills a geographical gap in our schedule."
Dario Franchitti, who attended a press conference at the track today before making a demonstration run in front of the NASCAR crowd, said New Hampshire filled an important hole in the schedule.
"This year because some of the problems at Milwaukee and Richmond not coming back on the schedule we were missing some short ovals and I really enjoy them, I think the fans enjoy them and I think we put a hell of a show in Iowa," said the reigning IndyCar champion.
"To have another short oval, a quality track like this is perfect. Flat track, one mile, it's going to be fun...
"The rumour has been going around for a while that we would be coming here to New Hampshire. Judging by the talk in the drivers' meetings and the buzz at night everybody is very excited about it and looking forward to it."