Patrick 30th on NASCAR return
| | |
| --- | --- |
| By Diego Mejia | Sunday, June 27th 2010, 08:15 GMT |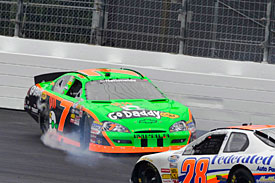 Danica Patrick finished 30th on her NASCAR return in the Nationwide series at New Hampshire Motor Speedway, following an early incident.
The IndyCar regular qualified 25th after steadily building up her speed during practice on Friday, despite getting off to a slow start having been away from NASCAR for nearly three months while focusing on the IZOD IndyCar Series.
After losing some places at the start of the race, Patrick and series veteran Morgan Shepherd made contact at Turn 1 while battling for position on lap seven. The JR Motorsports racer, who was on Shepherd's outside, spun and hit the wall, causing damage to the left front and rear of her car.
She eventually dropped a lap down to 38th place after pitting for repairs, something she would be unable to recover from. A long 85-lap green flag stretch followed the next restart, which made it hard for her to get back on the lead lap.
Patrick ran around a second off the leaders' pace for most of the first half of the race and when she pitted under green for the first time she was already four laps behind.
In the last quarter of the distance she was able to improve her pace, but by then she was already five laps down and unable to make any significant progress in the order.
"Well I didn't finish 200 laps, but I finished however many laps I was down on 200 laps," said Patrick. "It's disappointing to go down a lap so early, it's disappointing to start the race with the car damaged, it's disappointing to get lapped so many times, but then again, I was thinking out there at the end that it reminds me a lot of my first couple of short oval races in an IndyCar.
"It's part of the process, it's part of the learning, I know these things are going to happen and there are a lot of really good drivers out there and I was learning how to set people up and pass and how much track to use and I did learn a lot.
"It was important to do these laps and I'll be much better off next time."
Patrick seemed puzzled about the incident with Shepherd, not knowing exactly what happened despite initially blaming her rival on the radio.
"All I know is that I was sort of a quarter into the corner around [turns] 1 and 2 and got bumped-in sideways," said Patrick. "I tried to save it and... I don't know if I was supposed to hit the gas or something, I don't know, it's completely counter-intuitive from driving an IndyCar.
"So I just got on the brakes and tried to slow the car down once I couldn't catch it the second time and that's it. At least the car wasn't so bad that I couldn't keep going."
The female racer was glad to be able to improve the balance on her car in the last quarter of the race, something that reflected in her lap times. However she believes there is still a long way to go in her transition to stock car racing.
"We definitely improved the car," said Patrick. "It was very tight to start and then also just fine-tuning what I was doing out there. Sounds silly but hitting your marks, braking at the exact spot, picking up the throttle, not too early but just a little bit after that to make sure you don't get the front sliding... those things all feel slow because you're not sliding, pushing, hustling, but those are the things that work in these cars. So, it's all just a tremendous learning process."
Kyle Busch took his sixth win of the season in dominant fashion in the event, also claiming the all-time record for laps led in the series with 8,117, breaking the previous mark set by veteran Mark Martin.
Patrick will compete next in the NASCAR Nationwide Series in two weeks' time at the mile-and-a-half Chicagoland Speedway, following the IZOD IndyCar event at Watkins Glen next week.