Rosberg still upbeat over Mercedes form
| | |
| --- | --- |
| By Jonathan Noble | Sunday, June 27th 2010, 08:01 GMT |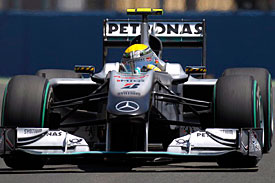 Nico Rosberg believes Mercedes GP can still enjoy a successful season, despite its disappointing performance so far in the European Grand Prix.
Although the team had hoped a car update would lift it closer to the front, difficulties in getting performance out of the tyres meant Rosberg and team-mate Michael Schumacher failed to make it past Q2.
But although that result suggests Mercedes GP are out of the world championship hunt, Rosberg is more upbeat - and thinks if the team can get on top of the tyre problems quickly then there is every chance of delivering front-running form.
"For sure I don't say no yet, definitely not," said Rosberg, when asked if he felt the title was now a lost cause. "It is still early days and I am 30 or so points away from the championship lead and there are a lot of different races, like Monza which is a very different track, ahead of us yet.
"The occasional chance will at least still be a possibility so we are not giving up on that. And, if we do find a solution for this tyre situation - which should be possible as there are clever people in the team, then there are still a lot of possibilities."
Rosberg said the difficulties in extracting single-lap pace from the tyres had left him unable to push his car to the limit.
"You don't have confidence in the car because the tyre doesn't behave as it is supposed so," he said. "It snaps, you make mistakes and it takes confidence away.
"It doesn't have the ultimate grip that you would expect from the tyre - that is the main problem we are having at the moment, where you don't see what our upgrade has achieved."
Rosberg's difficulties in qualifying were in marked contrast to his pace in Friday practice, where he had been sure that his revised car was a big improvement.
"I was definitely quite confident on Friday, being first and fourth in the session, running high fuel and being fast," he said. "So, for sure, it is a surprise to be where we are and be beaten by teams like Williams and Toro Rosso - that is a big surprise.
"We didn't see it coming but we were not aware yesterday of how big this issue was for us. I think the tyre issue is masking things for us, so I don't think it will be fair to say that we've made a step back. We need to wait a few more races and see if we can get on top of things and see where we are."