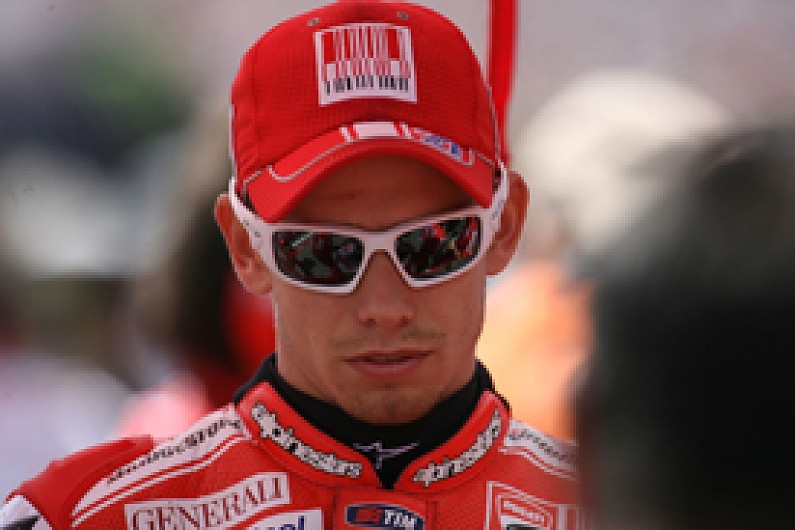 Casey Stoner's season of misfortune took another twist at Assen when the Australian revealed he was still suffering from the arm pump that affected his performance so badly at Silverstone.
Having recovered from Ducati's poor form thanks to the early-season front-fork issues, Stoner now says he faces a challenge in reducing the pressure-related condition in his right arm during one of the busiest periods of the calendar - with MotoGP in the middle of a packed triple-header month.
The former world champion sat down with the media after recording his first podium of the season at Assen on Saturday to explain in more detail the problem and how he intends to fix it.
Q. Tell us what it feels like to have the arm pump?
Casey Stoner: Basically it just destroys your whole arm so that you have only have five per cent of your normal strength. It blocks your muscle. Imagine you are walking up a hill and you push it, your legs just go out, and you have nothing left... now try doing that at 300km/h and changing direction. It's just completely destroys your right arm.
Of course you are always using it, getting on the gas, controlling it, being smooth, so you have to hold the arm steady. Then you have to get on the brakes and be smooth with that so everything together just completely locks it up.
Change of direction is the hardest thing. Once I got on the brakes it wasn't too bad, but coming out of the corners and changing direction, you've just got no strength to go from one side to the other. You try and use your other side, but the fact is, to go to the other side you are always picking it up to go to the left. You use your right arm a lot.
It's hard to explain it. It's like putting something tight around your arm so that you can't physically use it properly, then trying to ride.
Q. How hard does that make it for you to really concentrate on your riding?
CS: Just trying to work around it is the hardest thing. If it gets to a certain point then it's not terrible, you can kind of ride around it. You can change your style when you are scrubbing off corner speed, get on the gas a bit smoother and then try and relax your arm as much as possible. But when it gets to a certain point you are just using your knee and jamming it against your arm to change direction.
You just try to be as smooth as possible because as soon as the bike starts shaking, you have got no grip left and it makes the problem that much worse.
Q. Have you tried experimenting with your riding position?
CS: I've been doing this same riding position for I don't know how many years. It [arm pump] can't come on in just one week. This was something that should build up, not just come in one week.
Q. Is it anything to do with being lactose intolerant?
CS: No nothing. I'm finishing the race as fresh as a daisy but I have no arm power. It's just frustrating.
Q. Could you have won the race without this problem?
CS: If I could have got past Dani [Pedrosa], we could have definitely caught Jorge [Lorenzo]. He was pulling away too slowly to jump a gap on us. The bike felt good, felt strong. It's just me that wasn't there at the end, so I am a bit disappointed with that. What I've got to take out of these last two weekends is that I have been capable of running some really good times.
Q. So now you only have four days to recover until Barcelona...
CS: We'll just go and ice it as much as we can, try and get the inflammation down, flush it as much as we can and see what happens. But you can't go looking at operations now because you'll be out for a race or something, so we can't do anything.
Q. If it stays like this will you consider it?
CS: If it stays like this, and I don't believe it will, what we need to do is change the training regime and things like that. You just need longer, stringier muscles rather than clumps. And that helps everything go through the body better. It's better to be a tri-athlete than a body builder. Bodybuilder's muscles will pump up in three seconds, whereas tri-athletes can keep going. That's the difference between long stringy muscles and short stocky ones.
I'll do everything to avoid an operation because I don't believe they do jack. How many people have had an operation and then come back in for another one ? it just relieves the pressure temporarily until they get it again.
Q. The last three years you've not had a lot of luck with your fitness.
CS: It seems like it. In '08 I had my wrist in pieces, last year was non-existent for me it was so disappointing, and this year we started off strong but we found out too late that we had a problem with the forks. Nicky [Hayden] crashed again [this weekend] with the front-end and he doesn't do that too often.
We are happy with how the front-end feels, I've had no issues. I've not even lost the front once through the whole weekend so...
Q. Are you hoping things will turn around for you soon?
CS: Hopefully one of these days it will. I've got to be happy. I've won a world championship and I will keep fighting year-by-year to see what I can pull out of the bag but I'm doing everything I can. I have made a couple of mistakes and things just haven't gone my way so far.
Access even more news on Autosport.
Register for free to increase your monthly limit from 15 to 25 stories - or subscribe today and get unlimited access.
Get unlimited news
Full access to our news and in-depth Autosport Plus features - all in an ad-free enviroment.
Subscribe to Autosport Plus
Get 10 free extra stories
A quick upgrade and you'll boost your monthly news limit instantly - for free.
Register for free