Teams seek to clarify testing rules
| | |
| --- | --- |
| By Jonathan Noble | Saturday, June 26th 2010, 17:32 GMT |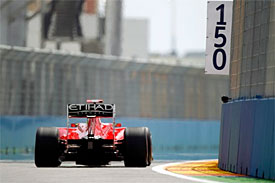 McLaren boss Martin Whitmarsh says moves will be made to clear up any 'ambiguity' in Formula 1's testing rules, following Ferrari's use of a filming day last week to try out its new exhaust system.
Although Ferrari used a legitimate filming opportunity to trial its new blown diffuser, the fact the outfit was able to do some meaningful running with its new system has left a number of rival teams unhappy.
Whitmarsh, who is also chairman of the Formula One Teams' Association (FOTA), said that the testing agreement between teams would now be clarified so all parties were clear about what was and was not allowed.
"I didn't think the regulations needed clarification but for some they clearly do," said Whitmarsh, who ruled out his team using a filming day to trial its new Silverstone update package next week.
"We will clarify the regs. Given I am calling for that then we will not be doing a filming day. We will be doing a straight-line running day, which will consume one of those days. That is the fair and proper thing to do."
He added: "Formula 1 is a very competitive business and people are going to try and take advantage of any perceived ambiguity. It isn't ambiguous in my English interpretation of it, but others obviously thought it was.
"We have got to remove that ambiguity."
Whitmarsh believes that, with the world economic situation improving, it could be time for F1 to return to allowing some mid-season testing.
"A little bit of testing in F1 would be the right thing," he said. "We had to take significant measures, given the crisis that our economy and F1 had, but I think now as we can see and feel signs of the economy improving, then hopefully we can go back to testing.
"F1 is about running cars. I think drivers enjoy testing, the teams enjoy going testing and developing cars, so I think it is a good thing to do and progressively, as the health and well-being of the teams develop, then hopefully we can do it."