Schumacher rues brake, tyre issues
| | |
| --- | --- |
| By Geoff Creighton and Matt Beer | Saturday, June 26th 2010, 13:40 GMT |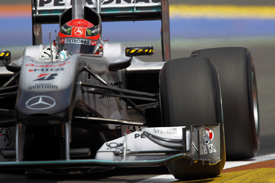 Michael Schumacher said brake issues and trouble getting the tyres into their operating window were to blame for the worst qualifying result of his comeback so far.
The seven-time champion will start the European Grand Prix in Valencia only 15th, while his Mercedes team-mate Nico Rosberg also struggled and was 12th.
"Basically, there were two factors," Schumacher told television crews in Spain. "One was that we had a general issue with the tyres just not working, as in Canada.
"On top of this, I had a so-called difficulty with the brakes - I was locking up the front right basically permanently, seemed to be unloaded at the front right corner. I don't understand that - something we need to get on top of, so that made it extra difficult when we already had a barrier to climb over."
He acknowledged that tomorrow's race will be extremely tough, but remained adamant that Mercedes was fundamentally competitive in race trim.
"I'm sure there's some disappointment, naturally," said Schumacher. "We are fighters. We know the business long enough that you have those up and downs, you have those moments that for whatever reason you don't understand things.
"We clearly have improved the car. The guys have worked hard and they have worked very well. This is very clear and obvious, because when we put the fuel in the car we are looking actually strong. We did as well in Canada.
"But, it doesn't help if you qualify where we do qualify and then you have to race from there. It's going to be a difficult afternoon tomorrow."