Buemi blames Barrichello for missing Q3
| | |
| --- | --- |
| By Pablo Elizalde | Saturday, June 26th 2010, 13:35 GMT |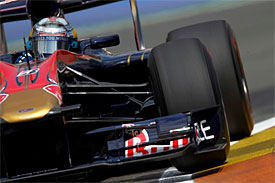 Sebastien Buemi blamed Rubens Barrichello for failing to make it into the final qualifying segment for the European Grand Prix on Saturday.
The Toro Rosso driver, however, was still happy with his performance after finishing in 11th position, a result he admitted he was not expecting.
"It's my best qualifying result of the season and I did not expect to do so well before the start of the session, which is a reason to be pleased," said Buemi.
"On the other hand, I am a bit disappointed because Barrichello was ahead of me going into the final corner on my last flying lap and he really slowed me down.
"He was on his slowing down lap, but it cost me two tenths which should have seen me finish higher than eleventh.
"To be honest, I'm not sure why the car worked so well today, because we have not changed anything since Canada. It proves the team is doing a fine job.
"It's good to start from further up the grid than usual, right in the middle of the pack, which means I have every chance of having a good race, even if it will be very difficult to overtake."
Team-mate Jaime Alguersuari finished down in 17th position, the Spaniard conceding Buemi had simply been much quicker today.
"I'm not sure what happened as we seemed to lack pace this afternoon," the Spaniard said. "I tried to push as hard as possible, but the speed did not come, so we will need to look at the data to understand what went on.
"Maybe my tyre pressures were a bit too low and I struggled especially on the soft tyres, maybe I did not have quite the right feeling from the brakes, which are very important here but for whatever reason I was very slow.
"Today, my team-mate did a better job than me, so we will have to try and improve in order to catch up in the race tomorrow."