Bourdais: Hot weather killed title bid
| | |
| --- | --- |
| By Charles Bradley | Saturday, June 26th 2010, 10:44 GMT |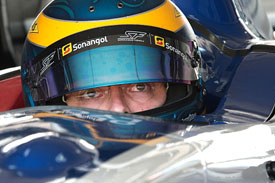 Former Formula 1 driver Sebastien Bourdais believes his Superleague Formula title bid is already over, as his LRS Formula team can't find a set-up to deal with the higher temperatures of the European summer.
Speaking as the series rolls in to the Nurburgring in Germany this weekend, where the weather is again hot, Bourdais - who started the season with victory at Silverstone - has a best finish since of seventh.
His Olympique Lyonnais club has now slipped to 16th in the standings.
"We know what to do with the car when it is cold and the track temperature isn't too high, but when it's warmer, we just don't," said Bourdais. "The summer has started now and we haven't worked out how to deal with it [higher track temperatures], even though we had the pace in the second race in Jarama [the most recent round] to see us fight for a place in the Super Final.
"The cold weather there really suited our set-up and it didn't highlight our troubles with the tyre degradation. The conditions in Assen [in May] were fresh too, so that wasn't bad.
"But in Magny-Cours we saw how much the tyres were destroyed by the heat and we couldn't find an appropriate set-up to minimise the problem.
"In Jarama, the 33°C heat prevented us from understanding the car," he added. "We took another direction from Magny-Cours and it still didn't work, which is worrying. You can't really take a risky direction on the car's set-up because you only have two hours of practice.
"It's a big risk to leave something you know for a different set-up that might be worse. You learn nothing from that."