Montoya takes pole at Loudon
| | |
| --- | --- |
| By Diego Mejia | Friday, June 25th 2010, 21:40 GMT |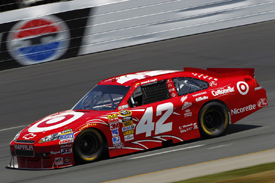 Juan Pablo Montoya claimed his third NASCAR Sprint Cup Series career pole in qualifying for Sunday's race at New Hampshire Motor Speedway.
The Colombian had been fastest in practice earlier in the day and he backed up his speed on his flying lap, setting a time of 28.781 seconds at an average speed of 132.337 mph, beating the previous benchmark set by Penske's Kurt Busch.
Earnhardt Ganassi driver Montoya had been on pole the last time the series competed at Loudon back in September 2009, when he was a contender for victory and finishing third. He believes his third Cup pole places him a step closer to his maiden win on an oval, in what has been a tough season for the former Formula 1 racer thus far.
"The lap was really good until the middle of Turn 3," Montoya told AUTOSPORT. "I got loose and lost a bunch of time in the corner. But I think we had enough speed in the car to run a good lap time. We matched what we ran in practice, so I was pretty happy with that.
"We led a lot of laps here last year so I'm hoping that we can stay up front and give ourselves at least a chance. If we can give ourselves a chance to win, I'd be more than pleased.
"It would be interesting if we could get some practice tomorrow to at least get some things we want to try in the car a little bit different to what we have and see what happens."
Kasey Kahne came closest to beating Montoya's time and ended up on the front row beside the Colombian. Alongside Kurt Busch, last year's Loudon winner Mark Martin placed his Hendrick Motorsports Chevy fourth on the grid for Sunday's race, while Ryan Newman rounded out the top five for Stewart Haas Racing.
Joe Nemechek was fastest of the non-guaranteed drivers in an impressive seventh place in his NEMCO Motorsports Toyota, right behind the fastest Camry of Michael Waltrip Racing's David Reutimann.
Casey Mears, driving for Tommy Baldwin Racing after being dumped by Red Bull last week, was 23rd, while his replacement Reed Sorenson was 29th on his debut in the #83 machine.
Roush Fenway's Matt Kenseth qualified poorly in 33rd on his first weekend with new crew chief Jimmy Fennig. Meanwhile Bobby Labonte did not set a time after crashing in practice, while filling in for Robby Gordon in the Californian's #7 RGM Toyota. However he will be in the field thanks to his status as a former champion.
Andy Lally will start his Cup oval debut from 40th on the grid driving for TRG, while Travis Kvapil and Mike Bliss failed to make the field.
Pos  Driver              Car        Speed    Time     Gap
 1.  Juan Pablo Montoya  Chevrolet  132.337  28.781s
 2.  Kasey Kahne         Ford       132.158  28.820s  + 0.039s
 3.  Kurt Busch          Dodge      132.062  28.841s  + 0.060s
 4.  Mark Martin         Chevrolet  131.998  28.855s  + 0.074s
 5.  Ryan Newman         Chevrolet  131.966  28.862s  + 0.081s
 6.  David Reutimann     Toyota     131.874  28.882s  + 0.101s
 7.  Joe Nemechek        Toyota     131.742  28.911s  + 0.130s
 8.  Sam Hornish Jr      Dodge      131.633  28.935s  + 0.154s
 9.  Clint Bowyer        Chevrolet  131.556  28.952s  + 0.171s
10.  Jimmie Johnson      Chevrolet  131.456  28.974s  + 0.193s
11.  Joey Logano         Toyota     131.329  29.002s  + 0.221s
12.  Marcos Ambrose      Toyota     131.315  29.005s  + 0.224s
13.  Paul Menard         Ford       131.279  29.013s  + 0.232s
14.  Brad Keselowski     Dodge      131.211  29.028s  + 0.247s
15.  Scott Speed         Toyota     131.189  29.033s  + 0.252s
16.  Jeff Gordon         Chevrolet  131.180  29.035s  + 0.254s
17.  Jeff Burton         Chevrolet  131.103  29.052s  + 0.271s
18.  Regan Smith         Chevrolet  131.049  29.064s  + 0.283s
19.  David Ragan         Ford       131.035  29.067s  + 0.286s
20.  Denny Hamlin        Toyota     131.017  29.071s  + 0.290s
21.  Carl Edwards        Ford       130.945  29.087s  + 0.306s
22.  Kyle Busch          Toyota     130.801  29.119s  + 0.338s
23.  Casey Mears         Chevrolet  130.734  29.134s  + 0.353s
24.  Kevin Harvick       Chevrolet  130.626  29.158s  + 0.377s
25.  Tony Stewart        Chevrolet  130.599  29.164s  + 0.383s
26.  Martin Truex Jr     Toyota     130.586  29.167s  + 0.386s
27.  Jamie McMurray      Chevrolet  130.456  29.196s  + 0.415s
28.  AJ Allmendinger     Ford       130.367  29.216s  + 0.435s
29.  Reed Sorenson       Toyota     130.313  29.228s  + 0.447s
30.  Elliott Sadler      Ford       130.300  29.231s  + 0.450s
31.  Dale Earnhardt Jr   Chevrolet  130.220  29.249s  + 0.468s
32.  Max Papis           Toyota     130.024  29.293s  + 0.512s
33.  Matt Kenseth        Ford       130.020  29.294s  + 0.513s
34.  Greg Biffle         Ford       129.714  29.363s  + 0.582s
35.  JJ Yeley            Dodge      129.626  29.383s  + 0.602s
36.  Dave Blaney         Toyota     129.600  29.389s  + 0.608s
37.  Michael McDowell    Toyota     129.278  29.462s  + 0.681s
38.  David Stremme       Ford       129.221  29.475s  + 0.694s
39.  David Gilliland     Ford       128.893  29.550s  + 0.769s
40.  Todd Bodine         Toyota     128.178  29.715s  + 0.934s
41.  Andy Lally          Chevrolet  127.997  29.757s  + 0.976s
42.  Travis Kvapil       Ford       127.679  29.831s  + 1.050s
43.  Mike Bliss          Chevrolet  127.436  29.888s  + 1.107s
44.  Kevin Conway        Ford       126.956  30.001s  + 1.220s
45.  Bobby Labonte       Toyota