Button wary of rivals' performance
| | |
| --- | --- |
| By Pablo Elizalde | Friday, June 25th 2010, 15:11 GMT |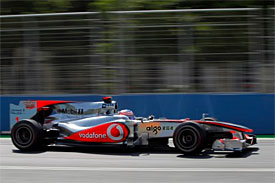 Jenson Button concedes McLaren will have to do its best to get as many points as possible in the European Grand Prix, the Briton suggesting he is not expecting his team to be as strong as some of its rivals.
Button was ninth quickest in today's second practice session at Valencia, where his McLaren team has no updates for its cars, unlike most of its mail rivals.
The world champion admitted the competition, especially Ferrari, is looking very strong and that McLaren is in for a tough weekend.
"The car feels pretty good. The only problem is there are lot of quick cars out there," said Button after practice. "The Ferrari looks very, very fast.
"Even the Renaults and the Mercedes look very competitive as well. It's going to be a tough weekend for us, but enjoyable as well."
He added: "We don't have an upgrade here and most teams do, so it's always a little bit tricky. But at Silverstone we do have an upgrade and we just have to fight it out here and get the best out of what we have."
Team-mate Lewis Hamilton also conceded his rivals were looking very strong, but he is optimistic about McLaren's race pace.
"It wasn't too bad today," Hamilton, fifth fastest, said. "The first session was quite good and then inevitably, like I said yesterday I felt that the others.. it's going to be interesting to see how fast they are. They are looking very, very competitive. Mostly on the single lap rather than the race pace.
"I think our race pace is closer but through the high-speed corners is difficult for us to touch them. But nevertheless we'll still push. It's not damage limitation but just getting as much as we can from them while they have the advantage."