Vettel hoping to race F-duct in Valencia
| | |
| --- | --- |
| By Jonathan Noble | Friday, June 25th 2010, 12:44 GMT |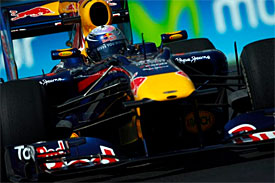 Sebastian Vettel hopes that Red Bull Racing's revised F-duct will be good enough to race at this weekend's European Grand Prix.
The team has put the system back on its car in Valencia, after the version tried out for the first time in Turkey did not produce the results that had been hoped for.
Although a final decision will be made Friday night about whether or not the F-duct delivers a good enough performance step to remain on the car for the rest of the weekend, Vettel has his fingers crossed that the team will give it the green light.
"It is not a secret it didn't work as expected in Turkey," said Vettel. "So we had to do Turkey and Montreal without it.
"It should have worked in Turkey but it didn't. It should work here, I am confident it will, and once it works properly it is a big help."
Vettel said the introduction of the F-duct had been far from easy - especially because there is no in-season testing and chassis are homologated.
"The difficulty with this system is to get it to work properly," he said. "It was working in Turkey but not as good as we were hoping for.
"McLaren did not just come up with the idea and it was working: it took them a lot of time to develop the system and fine tune it. Once you understand it, that is the biggest step.
"It is difficult to introduce it in season because there is not a lot of testing, but it's something you have to have. It is worth around half a second, and I don't know any other part in the past, apart from the double diffuser, which was worth a similar amount of lap time."