Schumacher hits back at critics
| | |
| --- | --- |
| By Jonathan Noble | Friday, June 25th 2010, 10:00 GMT |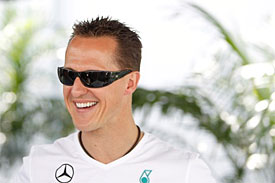 Michael Schumacher has hit back at the critics who slammed his performance in the Canadian Grand Prix - as he reckons he is doing as well as he expected in his comeback season.
When asked for his reaction about comments made by BBC pundits Martin Brundle, David Coulthard and Eddie Jordan after the Montreal event, Schumacher said: "I don't take them seriously because there are different elements to Formula 1, and one part is show business.
"So I cannot take it seriously as a realistic criticism, so I put it down to show business, and to moan about me sometimes creates some attention - which maybe is to be purposely achieved.
"I'd rather not have it, or have to hear about it or have to answer your question, but that's what it comes down to for me."
Schumacher has admitted that he could have done a better job at times this season – but thinks that is all part of the learning process.
"Yes, you make mistakes and you could have improved certain things, with hindsight," he said. "But all in all, I don't think there are many guys around the world who, at 41, come back after a three-year break and compete at this high a level.
"I've not lost my knowledge of driving. I know what I'm doing, and I think I do it to the best I can. When I won 91 grands prix and seven championships, I was thinking then about how I can improve, as I'm doing now."
Schumacher believes that the biggest factor in not allowing him to race at the front has been in getting an understanding of the slick tyres.
"The main issue is to get on top of this tyre situation and to understand them," he said. "For whatever reason we've not been able to do it in qualifying and it is something we're trying to understand to make sure we can be at our maximum in terms of performance.
"It is certainly the case they are different from what I am used to in my experience. But everybody else seems to be suffering. I hear all the way down the pit lane people are having problems, about what to do in certain moments.
"So that's been the biggest surprise for us, and we particularly suffered in this area in Canada. It's been the biggest issue for us this year."