Alonso aims to confirm Ferrari's pace
| | |
| --- | --- |
| By Jonathan Noble and Pablo Elizalde | Thursday, June 24th 2010, 13:37 GMT |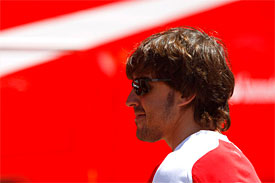 Fernando Alonso is confident his Ferrari team will be able to confirm its strong pace in this weekend's European Grand Prix.
After a couple of disappointing races, the Spaniard was fighting on top again in the previous race in Montreal, where he eventually finished in third.
And with Ferrari introducing a major upgrade package for the Valencia race, Alonso is hopeful of another strong weekend.
"I think it will be interesting to see this race how it goes," Alonso told reporters in Valencia. "We've been at some circuits better, some circuits with more problems - a bit up and down from the team performance in the last couple of races.
"Hopefully we can continue the performance we saw in Montreal - the line that put us in a competitive level fighting with McLarens and Red Bulls. In Turkey we were not quick enough so we try to confirm the feeling of Canada and being competitive again and hopefully finish on the podium again."
He said he was optimistic that the updates - including a blown rear diffuser - the team will introduce in Spain will mean a significant step forward.
"I think we've been improving the car every race more or less, so I think it is a matter of how much the others improve as well. It appears to be a step forward, so I think we are optimistic," Alonsao said.
"We are happy with the job done, we arrive here in Valencia with a good package in our car but we remain very calm about our expectations.
"We know the other teams were not watching TV in the last few weeks, everyone will bring updates here and hopefully ours is a little bit better than the others."
The Spaniard drove the updated car during a filming session at the Fiorano circuit ahead of this weekend's race, and although the conditions were not ideal, Alonso admitted it was still positive.
"The feeling was very good," he said. "I was running behind a car with cameras, at 60km/h so it was very stable! We did some laps also with no car in front, and 10 cameras on the car and on the helmet, so it was not very comfortable to drive, and it was also the first time driving an Ferrari F1 car at Fiorano.
"Tomorrow we'll have a better answer, we expect some steps in the car a little bit quicker, but as I said before, all the other teams, they will bring some new parts here.
"The most important thing is to confirm that we are competitive here as we were in Canada and we need to keep improving the car. This is a job we need to keep doing until Abu Dhabi, there is a long way to go."