F1 tyre saga nears end game
| | |
| --- | --- |
| By Jonathan Noble | Tuesday, June 22nd 2010, 16:48 GMT |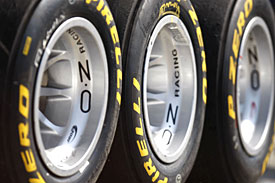 Formula 1's long-running tyre saga is expected to move a step nearer to an end game on Wednesday when the FIA's World Motor Sport Council meets in Geneva to decide on future rules.
After weeks of uncertainty about which tyre company would be picked, with teams having closed in on finalising terms with Pirelli, the FIA is expected to issue its first public statement about its own intentions for the future after the meeting.
Although the governing body could simply ratify the teams' preferred choice, AUTOSPORT understands that there remains a possibility the matter could be put out to tender - as FIA president Jean Todt recently suggested in a recent interview with French newspaper Le Parisien.
"It [the FIA] will soon launch a tender, with the commercial promoter of the championship, Bernie Ecclestone," said Todt. "FOTA may suggest that it decides, but the strong man is not he who speaks the loudest."
Although a tender process – even if Pirelli is the only company that officially implies – could lead to a further delay in confirming the tyre supplier for next season, F1 teams are already able to begin design work on their 2011 cars because they have agreed a document laying down specific technical demands from whoever wins the tyre contract.
The WMSC may also approve plans for a post-season tyre test with the new rubber – with teams having discussed the possibility of a four-day run in either Abu Dhabi or Bahrain after 2010 the season finale.
Approval is also expected to be given to a host of other regulations that have already been signed off by F1 working groups and the F1 Commission, which met on Monday. These are believed to include rules to introduce moveable rear wings in 2011, getting rid of the moveable front wings, confirming a ban on F-ducts, and a tweak to the safety car regulations after the controversy of Michael Schumacher's last-lap move on Fernando Alonso in Monaco.
The WMSC is also set to give approval to a name change for the BMW Sauber team, which AUTOSPORT understands has requested to lose the 'BMW' moniker following the German car manufacturer's withdrawal from F1 at the end of last season.
AUTOSPORT understands that also on the agenda for the WMSC meeting is whether disciplinary action will be taken against US F1 for its failure to make the grid at the start of this season.
A statement issued by the FIA earlier this year said that Todt had been given the all clear to pursue whatever action he felt right regarding the US F1 situation.
The statement, issued after a March meeting of the WMSC, said: "With regard to the USF1 team's non-participation in the 2010 championship, the world council mandated the FIA president, in full compliance with the new code of practice for disciplinary matters, to take forward the most appropriate action."