Ekstrom frustrated by late incident
| | |
| --- | --- |
| By Diego Mejia | Monday, June 21st 2010, 08:45 GMT |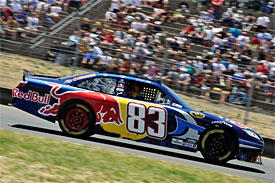 Mattias Ekstrom had a promising Sprint Cup debut at Sears Point but he ended up disappointed as a late incident prevented him from getting a good finish.
The Swede ran a different strategy to most in the first part of the race and as the leaders pitted for the first time under green, he was able to place his #83 Red Bull Toyota in the lead on lap 36, having started way back in 38th place.
The 31-year-old eventually stayed up front for seven laps until early race leader Jimmie Johnson passed him on lap 42.
He would later get into an interesting battle with four-time Sprint Cup champion Jeff Gordon, who clipped the right rear corner of his Toyota while trying to pass him for position, causing him to hit and spin Roush Fenway's David Ragan around.
Ekstrom kept the pressure on the Gordon afterwards and showed enough pace to stay among the the top five at one point. As strategies unfolded in the end and while he fought for a strong finish, the Red Bull driver got turned around by Penske's Brad Keselowski at the exit of turn seven with 18 laps remaining, bringing his promising run to an end.
He was able to rejoin and eventually recover many places in the closing laps, taking 21st at the checkered flag after dropping well bellow 30th following his incident with Keselowski.
"I'm happy with the way we were running but the result is not what I would like," Ekstrom told AUTOSPORT. "It's a bit frustrating that we didn't get anything better out of it. I think we deserved something better than this... I don't know. In Sweden I would say the 'i' was already there and I got the dot in the end."
The two-time DTM champion, said his first Sprint Cup experience matched his expectations but he could not hide his disappointment at finishing only 21st after leading the race and showing enough pace to contend for a much better finish.
"Everything matched my expectations," said the Swede. "Everybody was racing hard and most of them also fair. It's just disappointing when you cannot deliver a good result because the team and everybody took care of me at Red Bull like if I was a queen since I walked in here the first time.
"You spend so much time and energy and everybody here was racing for winning - I mean, I was dreaming of winning but we came like leading some laps, running quick all day and then 21st place is not so nice."
Next month Ekstrom will be back in behind the wheel of his Audi A4 for round four of the DTM at the Norisring.