| | |
| --- | --- |
| Lorenzo: Change of mentality was key | |
| | |
| --- | --- |
| By David Emmett and Matt Beer | Sunday, June 20th 2010, 16:59 GMT |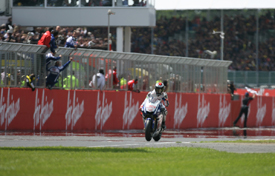 Jorge Lorenzo says a change of mental approach was key to his Silverstone victory, as he put a disappointing performance at Mugello behind him to dominate in Britain today.
The championship leader admitted that suddenly becoming Yamaha's sole title contender in the wake of Valentino Rossi's crash in Italy had affected his equilibrium at Mugello, where he could not match winner Dani Pedrosa, so he made an effort to approach Silverstone differently.
"I think one of the more important things is my change of mentality," Lorenzo said. "After Mugello I was a little bit worried that the crash for Valentino and the fact he would not be there would affect my mind.
"But I worked on it, and I was thinking about just enjoying myself, riding the bike and enjoying my job. We're not yet at the end of the year, at the moment it's a long time till the end, and we have to be patient and keep working."
Lorenzo led by as much as eight seconds at Silverstone, and said this was still a challenge.
"You can crash, you can make a mistake, so I had to go fast at the beginning but also to be very concentrated so I did not make these mistakes," he said. "My pace was very comfortable. The rear tyre was sliding but I think for the rest of the riders it was a little bit worse.
"You always worry, but today it was a different feeling, a feeling that it could be a good day for us."
He was only heading for a few yards while dicing with Pedrosa on lap one, but he said he had always suspected that his countryman's pace would fade as Pedrosa had crashed twice during the weekend. The Honda rider ultimately dropped back to eighth.
"I knew he would have some doubts in his mind because of his two crashes, so I tried to overtake him," Lorenzo said. "I expected that he would follow me for about four or five laps, but I just focused on my race and didn't know who was behind me."