Ekstrom open-minded for Sears Point
| | |
| --- | --- |
| By Diego Mejia | Saturday, June 19th 2010, 23:10 GMT |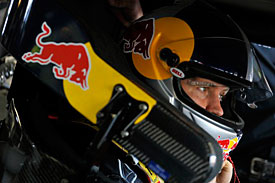 Two-time DTM champion Mattias Ekstrom hopes to be able to earn respect from the NASCAR regulars this weekend when he makes his Sprint Cup debut at Sears Point.
The 31-year-old qualified in 38th place for the race on Friday afternoon, ending 20th fastest out of 43 cars in the final practice session on Saturday.
Ekstrom tried to prepare as best as he could for his first Sprint Cup Series race, running also in the NASCAR K&N Pro Series West support race, which took place on Saturday afternoon. The series runs Nationwide Series-type machines, which have more downforce, less horsepower and different tyres than Sprint Cup cars.
The Swede qualified eleventh and was running 10th in the race when he crashed out on lap 12.
"The race was a good experience for me for as long as it lasted," said Ekstrom following the race. "It was helpful to experience the start of the race, to drive around the course and see what happens following cars closely - the main thing is just seeing how these cars handle."
Ekstrom has completed already some good mileage at the track before his Cup debut and has been pleased with the layout of the 1.99-mile circuit, which he says has some sections reminiscent of the Nordschleife, which he raced on in the Nurburgring 24-hour event last month.
The Red Bull driver has enjoyed his NASCAR weekend thus far, specially due to the friendlier atmosphere between drivers in the garage relative to his experience from Europe.
"The culture is way different here," said Ekstrom. "Everyone is much more friendly and it comes mainly from respect.
"The best NASCAR drivers in the world are really good and everybody knows how to pay respect and when you have so many drivers, so many series, you have to be a nice guy in a way but you have to be hard on the other side.
"When you also spend so much time together, you also get some personal stuff that you have to take in mind. Spending the time with guys you respect is much nicer than with guys you have problems with."
Having watched a lot of NASCAR races on TV, Ekstrom appreciates the way drivers race each other in the series, giving a lot more room to each other relative to how they compete in Europe. However, he says he doesn't intend to apply his aggressive DTM style of racing this weekend, as he hopes to earn his rivals' respect with speed and fairness on the track.
"I'm not here to wreck anyone," Ekstrom said. "I'm here to race quick and looking to race good and be fair and earn my respect. Sure in the end of the race I will do like all the others but even if I won't be racing them next weekend, I still want to do it with respect.
"I mean, I would like to run the whole race, start to finish trouble-free, look after the tyres and drive smart and try to be there in the end when everybody starts to race a little bit harder. What position that means I have no idea today but it would be nice to have a good result."
As far as a further run in NASCAR in the future, Ekstrom says he would like to drive the car in an oval one day, although he says it is uncertain when that will happen. He remains interested in the sport but his commitment for now remains in the DTM with Audi.
"I have a good deal and I'm running a really enjoyable time with Audi in DTM and I have been there for ten years and sure, I've said it before and I'll say it again, if it would be a possibility, I mean, I'm interested and I follow [NASCAR].
"It's difficult for Europeans to come here and I'll do my best this weekend to earn some respect and show there are some from Europe who can do it as well."
"For me NASCAR is oval. This is like a holiday for the drivers to come to a road course because it's only two races like out of 40. For us, I only do this tracks, so this is my everyday. To go to an oval I think also the cars would feel way different than in a road-course like this.
"One day I would like to try but I don't know when it will happen."