Power takes Iowa pole for Penske
| | |
| --- | --- |
| By Simon Strang | Saturday, June 19th 2010, 23:02 GMT |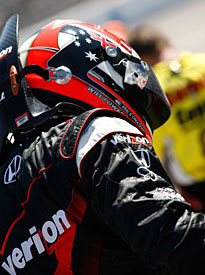 Will Power gave Penske its seventh straight IndyCar Series pole position of 2010 as he took the top spot in qualifying at Iowa Speedway.
The Australian's four-lap average of 181.337mph came almost as a surprise to the 29-year-old who was fourth out on track and expected to be usurped by one his Penske team-mates or Ganassi rivals as the short oval rubbered-in through qualifying.
But while Scott Dixon got within two thousandths, with an average qualifying speed of 181.332mph, late on, it wasn't enough to stop Power taking his third pole position and moving him to within two points of championship leader Dario Franchitti, by dint of the extra point he earned for achieving it.
"It's the best place to start the race from tomorrow," said Power, who has never won an oval race. "I just want to have a good result on an oval. We have been really quick the last two races, we've been in a position to win in fact. It's just that everything has got to fall together.
"I'm just edging away at it and hopefully tomorrow I can do the business."
Dixon for his part wasn't too fussed to have missed out on pole, adding that he and his team-mate Dario Franchitti had both focussed on race set-up ahead of tomorrow's 250-mile race.
"It was pretty tight, but we're more worried about the race and getting maximum points," said the Kiwi. "Both Dario and myself are in the top five which is a good starting position. We have been working on the race cars quite a lot this morning so I hope that pays off for tomorrow."
Marco Andretti capped a consistent day for the #26 Andretti Autosport crew - running 22nd on the road, the American took third position with an average speed of 181.005mph. A platform that prompted the 26-year-old to say afterwards that 'we can do it from here'.
Andretti's time bumped Helio Castroneves to fourth. The Brazilian admitted that he had struggled in practice and that changes prior to qualifying had made his car stronger ahead of his run, so he was delighted to be on the second row.
Franchitti ran halfway through the session and reported himself happy with the balance of his car as he sought to win the race for his third consecutive attempt (he missed 2008 while racing in the Sprint Cup).
Alex Tagliani missed out on third position thanks to a poor first lap in the 179s, but was happy that once again the FAZZT car punched above its weight. Meanwhile Takuma Sato put in an impressive performance in the Lotus-coloured KV car to go seventh. It was particularly noteworthy given that the Japanese was the third driver to go out on track.
Ryan Briscoe admitted that his qualifying set-up was 'thrown on' the car at the last minute as he set the eighth fastest time - the Australian another more concerned with his race pace.
Danica Patrick went ninth fastest in the second Andretti Autosport car while Dan Wheldon bumped Justin Wilson out of the top ten on the final run of the day.
Ryan-Hunter Reay and Vitor Meira occupied 12th and 13th spots ahead of Alex Lloyd who ran impressively for Coyne despite recovering from an appendectomy the previous week.
Of the other runners, Tony Kanaan was a mystified 15th. The Andretti Autosport man had been fastest of all in first practice and said he was delighted with the balance of his car, which remained stable in qualifying - it's just that he had no clue where the speed went when his run came about.
Graham Rahal was a conservative 17th, admitting that he had wanted to get the D&R car through qualifying without a dent. Which is more than can be said for Milka Duno's car, the rear of which she comprehensively wrecked in Turn 2 before having even set a time.
Dale Coyne Racing insists her car will be repaired in time for her to take the start on Sunday.

Pos  Driver               Team               Time        Gap
 1.  Will Power           Penske             1m10.9925s
 2.  Scott Dixon          Ganassi            1m10.9945s  + 0.0020s
 3.  Marco Andretti       Andretti           1m11.1230s  + 0.1305s
 4.  Helio Castroneves    Penske             1m11.1706s  + 0.1781s
 5.  Dario Franchitti     Ganassi            1m11.1805s  + 0.1880s
 6.  Alex Tagliani        FAZZT              1m11.1835s  + 0.1910s
 7.  Takuma Sato          KV                 1m11.2541s  + 0.2616s
 8.  Ryan Briscoe         Penske             1m11.2541s  + 0.2616s
 9.  Danica Patrick       Andretti           1m11.4863s  + 0.4938s
10.  Dan Wheldon          Panther            1m11.5591s  + 0.5666s
11.  Justin Wilson        Dreyer & Reinbold  1m11.5696s  + 0.5771s
12.  Ryan Hunter-Reay     Andretti           1m11.6531s  + 0.6606s
13.  Vitor Meira          Foyt               1m11.6733s  + 0.6808s
14.  Alex Lloyd           Dale Coyne         1m11.7727s  + 0.7802s
15.  Tony Kanaan          Andretti           1m11.8758s  + 0.8833s
16.  Mario Moraes         KV                 1m11.9300s  + 0.9375s
17.  Graham Rahal         Dreyer & Reinbold  1m12.1972s  + 1.2047s
18.  Sarah Fisher         Sarah Fisher       1m12.2485s  + 1.2560s
19.  EJ Viso              KV                 1m12.2867s  + 1.2942s
20.  Simona de Silvestro  HVM                1m12.3565s  + 1.3640s
21.  Raphael Matos        de Ferran Dragon   1m12.3878s  + 1.3953s
22.  Bertrand Baguette    Conquest           1m12.6403s  + 1.6478s
23.  Mario Romancini      Conquest           1m12.9647s  + 1.9722s
24.  Hideki Mutoh         Newman/Haas        1m14.2129s  + 3.2204s
25.  Milka Duno           Dale Coyne         no time

*All times combined from four lap runs