Winterbottom holds on to win
| | |
| --- | --- |
| By David Wright | Saturday, June 19th 2010, 08:32 GMT |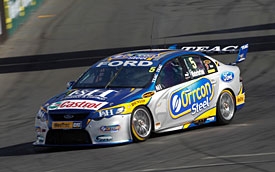 Ford Performance Racing's Mark Winterbottom won his first race of 2010 in the opening race of the Skycity Triple Crown at Hidden Valley, keeping 2008 and 2009 series champion Jamie Whincup at bay throughout the race.
Winterbottom held on to the lead at the start and gained a couple of seconds through the pitstops by pitting two laps earlier. However, late in the race Whincup closed the margin but never got close enough to make a move.
Third was Shane van Gisbergen who ran sixth in the early stages, but took four tyres at his pitstop versus most others who took only rear tyres. With more grip in the second half of the race, he made several passes on his way to the podium.
After falling from first to tenth in the shootout, fourth was a little unexpected but a nice reward for Jason Richards. Moving up to seventh in the early stages, Richards was the first to pit and the move paid off, running in third after the stops until van Gisbergen passed him at three-quarter distance.
For James Courtney, fifth was a step down after four consecutive wins in the previous four races. But he took the place despite strong attention from Tim Slade throughout the second half of the race, who himself had Craig Lowndes breathing down his neck.
All three drivers benefitted from the late-race off of Garth Tander, who ran off the circuit at turn one with six laps remaining and fell from fifth to tenth.
After qualifying 20th, Russell Ingall made his customary charge up the order to finish 11th, Rick Kelly doing similarly to move from 21st to 14th.
But some other drivers had their days go from bad to worse. Will Davison, who missed the shootout, got a good start but then got stuck in gear. The team tried to fix the problem but he retired soon after.
Meanwhile Steven Richards, who had qualified 26th was climbing his way up the order when he made his pitstop. However, his engine stalled during the stop and didn't want to refire, eventually leading to a DNF as well.
Pos  Driver                Make                  Time
 1.  Mark Winterbottom     Ford Falcon FG        51m17.8454s
 2.  Jamie Whincup         Holden Commodore VE   +   0.7875s
 3.  Shane Van Gisbergen   Ford Falcon FG        +  21.6808s
 4.  Jason Richards        Holden Commodore VE   +  27.3063s
 5.  James Courtney        Ford Falcon FG        +  30.2206s
 6.  Tim Slade             Ford Falcon FG        +  30.6761s
 7.  Craig Lowndes         Holden Commodore VE   +  31.8960s
 8.  Paul Dumbrell         Ford Falcon FG        +  32.6942s
 9.  Todd Kelly            Holden Commodore VE   +  35.0204s
10.  Garth Tander          Holden Commodore VE   +  35.7560s
11.  Russell Ingall        Holden Commodore VE   +  35.8686s
12.  Jason Bright          Holden Commodore VE   +  36.7657s
13.  Tony D'Alberto        Holden Commodore VE   +  40.5169s
14.  Rick Kelly            Holden Commodore VE   +  45.7401s
15.  Alex Davison          Ford Falcon FG        +  46.0622s
16.  Greg Murphy           Holden Commodore VE   +  46.5392s
17.  Michael Caruso        Holden Commodore VE   +  52.0917s
18.  Steven Johnson        Ford Falcon FG        +  56.2089s
19.  Jason Bargwanna       Holden Commodore VE   +  56.7588s
20.  Dean Fiore            Ford Falcon FG        +1m00.1620s
21.  Andrew Thompson       Holden Commodore VE   +1m02.7218s
22.  Lee Holdsworth        Holden Commodore VE   +1m05.2802s
23.  Fabian Coulthard      Holden Commodore VE   +1m06.1575s
24.  Jonathon Webb         Ford Falcon FG        +1m06.3890s
25.  Tony Ricciardello     Holden Commodore VE   +    1 lap
26.  Daniel Gaunt          Holden Commodore VE   +    1 lap

Not classified/retirements:

     Driver                Make                  Laps
     Karl Reindler         Holden Commodore VE    29
     Steven Richards       Ford Falcon FG         27
     Will Davison          Holden Commodore VE     1