Kahne takes pole at Sears Point
| | |
| --- | --- |
| By Diego Mejia | Saturday, June 19th 2010, 04:41 GMT |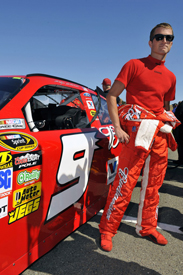 Kasey Kahne claimed his first pole position of the season in qualifying for Sunday's NASCAR Sprint Cup Series race at Infineon Raceway.
The Richard Petty Motorsports racer, who won at the track a year ago, bumped reigning champion Jimmie Johnson from pole by 68 thousandths of a second, setting a lap time of 1m16.300s.
For the past five seasons there had been always a different polesitter at Sears Points, but Kahne's pole broke that run as this is his second one in the past three years at the 1.99-mile track.
"It was a good run," said Kahne, who is driving the same chassis this weekend that he took to Victory Lane a year ago. "Coming to the green I felt like I overshot [Turn] 11 a little bit, so when I got back there, I ran the whole lap and wasn't as aggressive as I could be - sliding the car a little bit - but was really comfortable and under control.
"Then when I got back to [Turn] 11 I lifted a little early and didn't run through that corner as hard as I probably should have and probably gave up a couple of tenths to Jimmie... I'm glad we still got the pole, but I need to keep working on some corners out there, for sure."
The front row of the grid for Sunday's race will be exactly the same as two years ago, with Johnson's Hendrick Motorsports Chevrolet starting beside Kahne's Ford, the champion hoping to get his first road course victory in the Sprint Cup series.
Penske's Kurt Busch will start third beside Richard Childress Racing's Kevin Harvick, while five-time event winner Jeff Gordon, who was on provisional pole for a while, rounded out the top five.
Australian Marcos Ambrose had been fastest in practice and looked favourite to claim pole, but an early draw and a mistake entering the final hairpin before the chequered flag, prevented him from backing up his practice pace, ending up sixth although fastest among the Toyotas.
"My right foot got caught between the brake and the throttle and couldn't make the turn," said Ambrose. "I'm kicking myself. We had a great car and wanted to get the pole with that lap, but at least we're in the front half of the field and we're going to rock and roll on Sunday."
Despite working only on race trim during practice, Tony Stewart was seventh ahead of an impressive Bobby Labonte, while Greg Biffle and Martin Truex completed the top ten. 2007 event winner Juan Pablo Montoya placed his Earnhardt Ganassi Chevy 14th on the grid, his best qualifying effort in four starts at the track.
Road course specialist Boris Said was the best of the non-guaranteed starters in 17th, while Dane Jan Magnussen placed his Phoenix Racing Chevy 32nd on the grid for his Sprint Cup debut, ahead of the Red Bull Toyota of Mattias Ekstrom, who will see the green flag wave from the 19th row of the grid.
Brandon Ash, Brian Simo and Michael Waltrip failed to make the field.
Pos  Driver              Car        Time       Gap
 1.  Kasey Kahne         Ford       1m16.300s
 2.  Jimmie Johnson      Chevrolet  1m16.368s  + 0.068s
 3.  Kurt Busch          Dodge      1m16.556s  + 0.256s
 4.  Kevin Harvick       Chevrolet  1m16.665s  + 0.365s
 5.  Jeff Gordon         Chevrolet  1m16.690s  + 0.390s
 6.  Marcos Ambrose      Toyota     1m16.809s  + 0.509s
 7.  Tony Stewart        Chevrolet  1m16.814s  + 0.514s
 8.  Bobby Labonte       Chevrolet  1m16.821s  + 0.521s
 9.  Greg Biffle         Ford       1m16.840s  + 0.540s
10.  Martin Truex Jr     Toyota     1m16.871s  + 0.571s
11.  Mark Martin         Chevrolet  1m16.890s  + 0.590s
12.  Denny Hamlin        Toyota     1m16.895s  + 0.595s
13.  Ryan Newman         Chevrolet  1m16.903s  + 0.603s
14.  Juan Pablo Montoya  Chevrolet  1m16.913s  + 0.613s
15.  AJ Allmendinger     Ford       1m16.978s  + 0.678s
16.  Robby Gordon        Toyota     1m17.051s  + 0.751s
17.  Boris Said          Ford       1m17.085s  + 0.785s
18.  Paul Menard         Ford       1m17.134s  + 0.834s
19.  Carl Edwards        Ford       1m17.163s  + 0.863s
20.  Joey Logano         Toyota     1m17.174s  + 0.874s
21.  Elliott Sadler      Ford       1m17.209s  + 0.909s
22.  Clint Bowyer        Chevrolet  1m17.300s  + 1.000s
23.  Scott Speed         Toyota     1m17.350s  + 1.050s
24.  Dale Earnhardt Jr   Chevrolet  1m17.376s  + 1.076s
25.  Jamie McMurray      Chevrolet  1m17.460s  + 1.160s
26.  David Gilliland     Ford       1m17.509s  + 1.209s
27.  Kyle Busch          Toyota     1m17.533s  + 1.233s
28.  Joe Nemechek        Toyota     1m17.536s  + 1.236s
29.  Max Papis           Toyota     1m17.548s  + 1.248s
30.  Jeff Burton         Chevrolet  1m17.623s  + 1.323s
31.  Regan Smith         Chevrolet  1m17.690s  + 1.390s
32.  Jan Magnussen       Chevrolet  1m17.711s  + 1.411s
33.  David Reutimann     Toyota     1m17.863s  + 1.563s
34.  Matt Kenseth        Ford       1m17.867s  + 1.567s
35.  PJ Jones            Toyota     1m17.893s  + 1.593s
36.  Brad Keselowski     Dodge      1m17.910s  + 1.610s
37.  JJ Yeley            Dodge      1m17.988s  + 1.688s
38.  Mattias Ekstrom     Toyota     1m18.034s  + 1.734s
39.  Sam Hornish Jr      Dodge      1m18.312s  + 2.012s
40.  Travis Kvapil       Ford       1m18.740s  + 2.440s
41.  Kevin Conway        Ford       1m18.805s  + 2.505s
42.  David Ragan         Ford
43.  Dave Blaney         Toyota     1m18.249s  + 1.949s

Did not qualify:

     Brandon Ash         Dodge      1m18.427s  + 2.127s
     Brian Simo          Chevrolet  1m18.733s  + 2.433s
     Michael Waltrip     Toyota     1m19.441s  + 3.141s