Hamilton says F1 field closer than ever
| | |
| --- | --- |
| By Jonathan Noble | Friday, June 18th 2010, 09:39 GMT |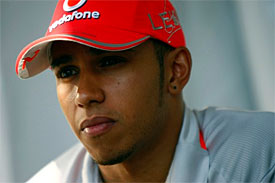 Formula 1's leading drivers are having to push themselves to the limit more than ever before in their bid to try and become world champion.
That is the view of series leader Lewis Hamilton, who reckons that the mixture of a very competitive field and a different points system this year is contributing to an incredible tough title battle.
And although he has emerged as the points' leader following his back-to-back successes in Turkey and Canada, Hamilton thinks that there will be no chance of taking things easy.
"Our sport is so incredibly competitive at the moment - and we're seeing different teams come to the forefront all the time - that this championship is going to be as much about playing the long game - minimising mistakes, scoring points at every race - as it is about success at individual races," Hamilton wrote on his official website.
"And, actually, I think that's the first time you can probably say that about a Formula 1 championship. Whether it's the changes to the points system, or just the fact that there are maybe as many as 10 drivers out there with the machinery capable of winning races, you can't afford to just take the points. You've got to be on the limit all the time - and I love that, because that's how I love to race."
Hamilton believes that the title fight is so finely poised that no-one has yet emerged as a clear favourite - even though he is the man at the head of the points' standings.
"It's great to be leading the world championship, but, I have to be honest, Formula 1 is so tough and so competitive at the moment that you can't take anything for granted - and, while I might be on top right now, I know that I'll need to fight for every lap of the next 11 races to remain up there," he said.
"And, I think I'm like the fifth leader of the championship so far this year, so it's pretty clear that it's not so easy staying on top."