Ambrose eager for strong showing
| | |
| --- | --- |
| By Diego Mejia | Friday, June 18th 2010, 07:24 GMT |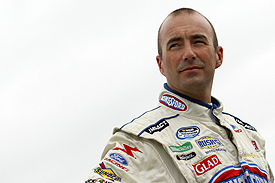 Marcos Ambrose expects to rebound strongly this weekend at Sears Point, after suffering a disappointing NASCAR Sprint Cup season so far in 2010.
Driving a Toyota for JTG-Daugherty this year, the 33-year-old Australian had high hopes of contending for a Chase berth in his second full season at NASCAR's top level.
However, 15 races into the season he lies down in 30th place in the standings with six DNFs and only one top-10 result.
Ambrose has been a contender at the front in each of his four road course outings in the Cup, recording top five finishes in four of his three non-oval races in the past two years.
He believes that more than his previous showings at Sears Point, his current results put the pressure on him and his squad to score a top result this weekend.
"Well, there's pressure every week," said the former V8 Supercar champion. "So whenever you're running badly, you've probably got more pressure than when you're running well. So I expect to run well at Sonoma. We should be somewhere in the top 10 in practice, in qualifying trim, which sets us up well for the race.
"That race is what it is. If you get caught up in someone else's problems, so be it. You just put your best foot forward and try to apply yourself. So I think a race like Sonoma this weekend, I'll be breathing a little easier knowing that it's my forte. It's what I've grown up doing. I should have as good a chance of any of running at the front.
"I've run at the front both years I've attempted the race. We've done a lot of practice, a lot of research on the car, we've done a lot of development. Fingers crossed, it's going to work out."
Last year, Ambrose recovered to an impressive third place finish after starting from the back of the field due to an engine failure in final practice. His strategy helped him charge to the front, but he ran a very long tyre stint at the end and had to surrender his attack to defend his third place to the checkered flag.
Ambrose hopes to be able to get the right fuel mileage this weekend, something he considers as key to having a shot at his maiden Cup win on Sunday.
"We've just got to try to run at the front all day and pit when we need to for our fuel mileage," Ambrose said. "Each team has different fuel mileage numbers that they get, depending on who is driving the car or what kind of carburetor configuration they've got and what kind of rpm they'll be using on the racetrack.
"So we'll go through our fuel mileage numbers during practice and qualifying practices to get ourselves as familiar with our engine and that track as we can. And then it's going to come down to trying to stay on strategy.
"The last couple of road [course] races we've had to be off strategy during practice or fuel mileage problems that we had during the race. So we've got to really make sure that we try to just stay on strategy with the majority of the field so we don't have to pass them twice, and if we can do that we should be somewhere in the front."
Ambrose's best Cup result came in August last year when he finished second at Watkins Glen behind Tony Stewart.