| | |
| --- | --- |
| Stoner aiming to regroup at Silverstone | |
| | |
| --- | --- |
| By Simon Strang | Thursday, June 17th 2010, 20:00 GMT |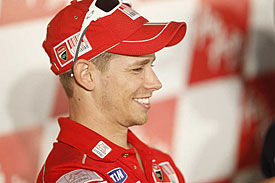 Ducati's 2007 world champion Casey Stoner says the Italian team needs to regroup and run at the front this weekend after an inconsistent start to his title campaign.
The Australian, who recorded his best finish of 2010 at Mugello two weeks ago with a fighting fourth place, crashed out twice in the first four races and has not been able to capitalise on the raw pace of the GP10 despite scorching to pole in the opening round at Qatar.
"It's definitely not been the way we wanted to start the championship, or the way we thought we would," he said at Silverstone on Thursday. "We have been competitive at a good few circuits, except Mugello - which was one of the ones I was sure we would be competitive at.
"That was a little bit of a shock to the system and we really need to try and understand why that was the case, because it is a circuit I normally enjoy and one that our package normally goes very well at.
"In general we need to pick up the pace and try running up front a little bit without the risk of crashing."
But Stoner, who lies seventh in the championship, 66 points behind leader Jorge Lorenzo, believes that Ducati has gone a long way to resolving the front-end issues that contributed to his accidents in Qatar and Le Mans and hopes to come back fighting at Silverstone.
"We fixed a lot of the front-end problems with the forks, and as I said, we don't understand why we didn't have the pace in Mugello," he said. "We just didn't have the feeling, but in general I've got a lot better feeling.
"We've changed back to last year's forks and that has allowed the bike to be a lot more understandable and hopefully we can go on from there but it is going to be interesting to come here and see where we are."
Stoner is one of the few riders in the field with recent experience of Silverstone, when he raced in the 2000 British 125cc Aprilia Championship, but he says that this will not present an advantage when the pitlane opens on Friday afternoon.
"Everyone has been saying that I should know this track but I've only ever raced at Silverstone one time, and I only did four corners of the track we are racing on now," he said. "I can't say I'm an expert on this circuit.
"It looks interesting," he added. "There are a few new bits that they have just made in the last couple of days I think, and it will be interesting to see how they hold up and whether there are any bumps in the connections.
"In general the track lay-out looks a lot of fun."