IRL finds error in Texas fire truck
| | |
| --- | --- |
| By Steven English | Thursday, June 17th 2010, 09:13 GMT |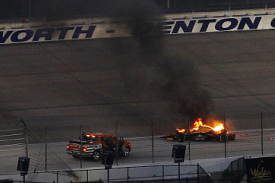 The Indy Racing League has found that there was an error in the preparation of a fire hose prior to Simona de Silvestro's crash at Texas earlier this month.
The Swiss driver was exposed to flames for more than 30 seconds when the water supply from the first fire truck on the scene failed. She escaped with only burns to her hand, but her HVM launched an attack on the failings of the safety officials and the IRL promised to investigate the incident.
The IRL's review found an error in the packing of a fire hose on the truck, which caused it to fail.
Mike Yates, IRL track safety manager, said: "Prior to every race, the safety team tests all hoses to ensure they're working. At Texas, there was an error in the re-packing of the hose after the test, which caused it to malfunction.
"We are modifying hoses on all the trucks beginning this weekend in Iowa to prevent this from happening again."
The review also found a breakdown in the protocol of the safety team during its response.
"Upon arriving at the scene, our protocol calls for safety team members to take pressurised canisters with water and Cold Fire to the car to extinguish the fire as a first response," said Yates.
"In situations like this, decisions are made in a split second based on the severity of the incident. We have determined that the canisters are a more efficient and effective way to quickly suppress on-track fires. This will be reviewed with all safety team members."
IRL president Brian Barnhart spoke in support of the IndyCar safety team, but vowed to keep working to improve its performance.
"Our safety team is at the forefront of motorsport safety and has set a very high standard in its response to all on-track incidents," he said. "We are always continually looking for ways to improve the way we operate.
"What happened at Texas was a result of human error, and we will work diligently to prevent this in the future. The safety of our teams, drivers and officials on the track remains our number one priority."