| | |
| --- | --- |
| Yamaha: Lorenzo must stay focused | |
| | |
| --- | --- |
| By Talvir Singh and Michele Lostia | Wednesday, June 16th 2010, 12:58 GMT |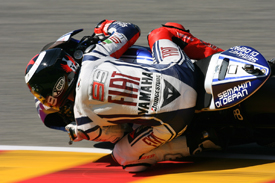 Jorge Lorenzo has been urged to maintain his focus by his Yamaha team, as Valentino Rossi could make his return as late as round 10 of the MotoGP season.
The Spaniard is leading the championship by 25 points over fellow countryman Dani Pedrosa, and the Yamaha team is now giving Lorenzo's title bid its full backing.
Jeremy Burgess, Rossi's chief engineer, told Motosprint magazine: "We are ready to work to make sure Yamaha wins the title, so that includes helping Lorenzo.
"However, Yamaha must now make sure that Lorenzo doesn't lose focus: Valentino's absence could give a boost to [Casey] Stoner and Pedrosa, who may become stronger."
With Rossi having led Yamaha's development efforts since he joined the team, Burgess acknowledged that Lorenzo had to raise this aspect of his game in the champion's absence."
"Yes, in fact he needs to make a further leap forward: now he has to work with the engineers and he must give something more on this front," said Burgess.
"Let's wait and see what he does. Valentino and I have achieved the aim of making the M1 competitive but also usable for the other riders. We'll see what Lorenzo does."
He pointed out that Honda's form had been affected by Rossi's absence when the Italian left for Yamaha in the mid-2000s.
"At Honda the young riders were always a bit lucky, because they only had to ride the world champion's bike well," Burgess said.
"But at Honda we saw what happened when a top rider suddenly left: development of the bike crumbled like a castle of cards."