Q & A with Canada GP boss Dumontier
| | |
| --- | --- |
| By Jonathan Noble | Tuesday, June 15th 2010, 16:08 GMT |
After its absence in 2009, the Canadian Grand Prix returned to the Formula 1 calendar last weekend, and the event proved to be a success both on and off the track.
AUTOSPORT talked exclusively to the event's promoter Francois Dumontier about the grand prix weekend and about F1 in North America.
Q. How would you judge the Canadian Grand Prix weekend? You had a sell-out crowd and F1 was happy to be back. Was that what you were expecting?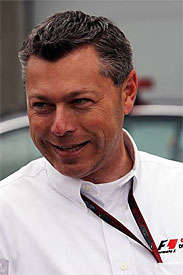 Francois Dumontier - Canadian GP promoter: It is what we were expecting. The big thing was when we signed the deal at the end of November, and we put the ticket on sales in mid-December. At that point we were scared a little bit - to see the reaction of the fans. Would they come back, or would they completely walk away because of the absence in 2009? When the fans showed us they liked it, we were glad they were happy. We knew that at that point that, with only six months until the event, they would be back. So we were thrilled about it.
Q. How much of a gamble for you was putting this race on, and how hard were the negotiations to be able to make the figures work?
FD: As a businessman, it had to make sense. At the same time, with Mr Ecclestone, the talks were pretty good. He had a very open mind to come back. I assume he had a lot of pressure from the teams and sponsors. So it was quite an opportunity for me, and it went well. At the end of the day – he is happy and I am, so it is a good deal.
Q. Speaking to Jacques Villeneuve this weekend, he said that he had the impression that Montreal had really missed the Canadian GP when it was absent last year – and only realised how important it was when it didn't have it. Would you agree?
FD: Completely. Because F1 was here since 1978, I think that they almost took it for granted. When we lost it in 2009, everybody realised what it really meant – in terms of hotels being empty, the restaurant's economic impact. But there was also the visibility factor – which Montreal gets during the television broadcasts.
Q. It must be quite a compliment to you that the teams are actually paying to be here because of the freight costs?
FD: I met all the individual team principals back in Barcelona where I was there, and I think that they were pretty frank – that they were happy to come back, and they missed Montreal in 2009. It is flattering, but Montreal is so in with F1. In 2009, Montreal missed F1 but F1 missed Montreal.
Q. How important is it for you that the United States is coming back in 2012 to increase the North American presence?
FD: The fact that Texas is so far from Montreal, even if it is in America, it is not the same as if the race was in New York – which Bernie has been talking about. New York is so close to Montreal that there were two ways of looking at it – we could have worked together, got some synergy together, to increase the profile of both events. But on the other hand it could have meant some American fans not crossing the border to Montreal and just going to New York. Having it in Texas, I am not frightened by that. It just cannot be the same relationship as if it was in New York.
Q. Why do you think Canada's fans embrace F1 so much, while America has been such a hard market for F1 to crack?
FD: I think that here in Montreal the sport is important, as I am not sure Toronto would have the same atmosphere. In Montreal it all started with Gilles Villeneuve back in 1978, and he helped the Montreallers discover F1. Since then, it has become part of the tradition. The whole city embraces the sport. You look at Crescent Street, Peel Street – the whole atmosphere in town. When Gilles died, between that and Jacques, there were so many years but they still came.
In US, and we are doing a NASCAR race here as well, it is totally different in terms of crowds and clients. In the US, stock car is pretty strong, IndyCar is pretty strong – and knowing a little bit the Americans, since there is no American driver, no American team, maybe that is one of the issues.
Q. Bernie Ecclestone is a man who is always demanding world class facilities. No-one expects Montreal to ever match facilities like Abu Dhabi, Bahrain or China – but what are your plans for upgrading here?
FD: When we signed the new agreement, nobody at FOM or the FIA asked us to do modifications. Personally, and I know the Chinese, Bahrain or Abu Dhabi facilities are up there, but I believe we are more a traditional market. I think it takes different types of race tracks, different types of facilities. People have to understand that here each year we are doing a small miracle because after the race we take down everything, and we start over again in March. Also, this is a piece of land in the middle of water – we can be very creative but at the same time the limits are there.
A few years ago we built a concrete platform over the basin, and two years ago we built the new media centre over the basin. This is the way that we look at it. Maybe we will have to look at the main pit building. It was built in 1988, so we will have to do something with it soon.
Q. What about increasing the capacity with more grandstands, since this year's race was such a success?
FD: I think there is space to put in more grandstands. The layout of the track, and the grandstands, are currently in the same position – although some are bigger than they were in 2008. There are still some other positions to put grandstands, but it is also important to offer a ticket at a lower rate for general entry, rather than a grandstand. It is a park, in a very green area, but we are limited there also.
Q. Has the success of this year given you the platform to know what you can do and where you can go from here?
FD: Yes. When we signed the deal, I said at that time that this year we would do simple things – the things we knew how to do. But we have a five-year contract, and have time to look at it. There is an option in that contract and the future is brighter than it was, so we can think and be creative.