Brawn rues Schumacher's tyre strategy
| | |
| --- | --- |
| By Pablo Elizalde | Sunday, June 13th 2010, 19:59 GMT |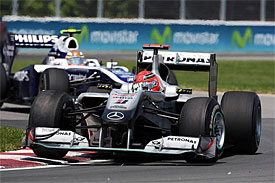 Mercedes boss Ross Brawn said the team was over-ambitious in trying to get the softer tyres to last for too long in Michael Schumacher's car during the Canadian Grand Prix.
Schumacher looked set for an eighth-place finish before he started to struggle with his tyres.
Although the German tried hard not to lose places, he was eventually passed by three drivers, dropping outside of the points.
Brawn admitted the strategy had probably been wrong.
"Michael was looking strong in the first phase of the race and was very well-placed," said Brawn. "Unfortunately the incident with Kubica punctured the right front tyre and coming in for the extra stop meant we were out of phase with where we wanted to be with the tyres.
"With hindsight, it was over-ambitious to try and get the Option to last as long as we did and Michael really struggled towards the end. We've come away with some points from the weekend but not as many as we would have hoped."
Schumacher, who finished 11th, was at least encouraged by the pace of his car.
"Towards the end, I was trying as hard as I could to defend myself but it was only possible to a certain degree and my tyres were just ruined after having done more than half the race distance. I was fighting cars with a good top speed which was quite tough.
"Otherwise I would have been in a good position I think so we have something to take away to the next races."
Team-mate Nico Rosberg finished in sixth position.