Button happy with second place
| | |
| --- | --- |
| By Jonathan Noble and Pablo Elizalde | Sunday, June 13th 2010, 18:22 GMT |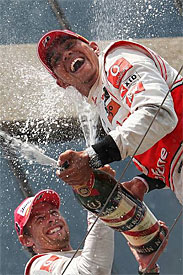 Jenson Button was very happy with his second-place finish in the Canadian Grand Prix, in what he said was a very fun race.
"It was a great race, very enjoyable and pretty tough," said Button, who finished second behind McLaren team-mate Lewis Hamilton after having started from fourth position.
"It was a really fun race and it is very difficult to judge when to push on the tyres. I think I probably kicked in a bit early in the last stint, but it got me P2, so a big thank you to the whole team.
"This guy [Hamilton] was phenomenal. It is good to finish close to the race and good to get some points."
The result allowed the McLaren duo to move into the top of the standings, with Hamilton two points ahead of Button.
Button admitted the tyre problems made for a very interesting race.
"It was an exciting race from that point of view," he added. "It's great to be up at the front watching the fight between these two. It was fun, and for the viewers it was a great race, down to the tyres being a bit more different than normal. It has made for a hell of a race."
The Briton also wished a quick recovery to race engineer Jakob Andreasen, who was forced to return home before qualifying.
"Jakob is poorly this weekend. He did the set-up work initially so some of this result is down to him. So I had Phil Prew who is chief engineer who has worked with Lewis over the last few years.
"It's always interesting working with new people and new ideas. I hope Jakob is well and hopefully see him back at the circuit."