Q & A with Allan McNish
| | |
| --- | --- |
| By Steven English | Sunday, June 13th 2010, 16:09 GMT |
Q. Did the result take you by surprise?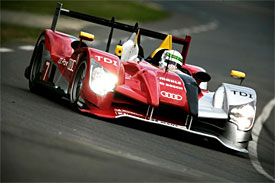 Allan McNish: Personally, I'm just quite amazed, I'm quite shocked, I'm bemused by it all. With the speed that Peugeot had, and it was speed on tap - it wasn't as if they were straining to do it.
But we put them in a position where they had to do it. We had got ourselves to the point where we were fast enough to be the irritating Audi behind and they know our strengths. It meant they had to push and they had a few Achilles' heels along the way.
The race result was incredible. I would never have predicted it like this. I would never have predicted GT2 and to be honest I'd never have predicted LMP2 either. But it's turned out that Le Mans has shaken everything up once more. The race which changed from our point of view by the incident with Tom and Andy, which was a bit unfortunate.
Q. Did that cost you the race?
AM: We were the leading Audi at that point and we had been up until then, and it put us two laps down. But you can't take it away from the other guys. They did a strong race as well - a very, very good job. It's not as if they gave us an opening to come back.
Q. Does it feel like Audi won the race, rather than Peugeot lost it?
AM: You've got to first finish, before you finish first. Tom Rutherford, the guy that did my engines when I was in karting in 1982 told me that, and it's still the same however many years later. We had a maximum speed that we could do, and that's what that was. We weren't conserving anything to try to get reliability.
Having three cars without any technical problems is an amazing piece of reliability. That was very impressive. After last year's reliability discussion, it shows that the guys did a bloody good job. But we had to give it everything we had.
To be honest I think they were as surprised as we were about the amount of reliability problems they had because I don't think they had them in the past.