Drivers pay tribute to Strakka effort
| | |
| --- | --- |
| By Steven English | Sunday, June 13th 2010, 14:55 GMT |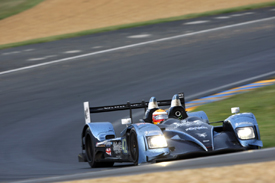 Danny Watts and Jonny Kane paid tribute to their Strakka Racing team after sealing the LMP2 class victory and fifth place overall in the Le Mans 24 Hours.
The British team was on top of the class battle with the Highcroft Racing HPD for the majority of the race, before the American team dropped out with cooling problems. But Watts is sure the Strakka was in a position to win the class regardless.
"Highcroft pushed us very hard to about three quarter distance, putting pressure on us and we had to be on our toes the whole time," Watts said. "The strategy was perfect - we could triple stint the Michelin tyres, which they couldn't. That bought us a little bit of time in every pitstop.
"Above all, staying out of trouble was the main thing. They [Highcroft] have got a very, very experienced driver line-up so we had to be sharp, consistent and not make any mistakes, and that's exactly what we did."
Kane put their success down to the fact that they were able to run trouble-free for all 24 hours.
"It's been an unbelievable week," he said. "The reason we've won the race and we're so far up the overall finishing is that we've had absolutely no problems. We owe everyone a big pat on the back, especially the Strakka guys because it's a small team.
"I think the fact that more LMP2 cars finished than P1s shows the standard that P2 has got to now. You have to work extremely hard to get a result now, whereas it used to be a case of if you finished the race in any shape or form, you were on the podium. And that's simply not the case now."