H23: ORECA Peugeot retires as well
| | |
| --- | --- |
| By Simon Strang | Sunday, June 13th 2010, 12:06 GMT |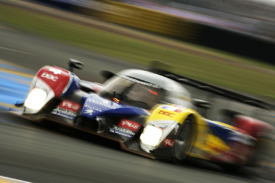 The last vestiges of a fight for the podium positions between Audi and Peugeot ended in the 23rd hour of Le Mans as the ORECA 908 HDi FAP appeared to suffer the same fate as the #1 and #2 factory cars while hunting Rinaldo Capello's third-placed Audi.
Loic Duval had closed to within 10 seconds of the R15 TDI Plus before pitting out of sequence. But shortly after resuming his pursuit a sheet of flame tore from the right underside of the car as it approached Indianapolis, signalling a massive oil fire and a final retirement for the French manufacturer with just 70 minutes to go.
This development means that Audi is now left to run unchallenged to the flag as it seeks an unlikely clean sweep of the podium.
Timo Bernhard took over from Mike Rockenfeller in the lead #9 car and commands a lap advantage over Benoit Treluyer, who looks set for his best finish at La Sarthe one year after his horrifying accident in the Pescarolo Peugeot.
Capello, who had been gearing up for a nerve-jangling climax to the race, now has an 11-lap cushion to Sam Hancock in the Aston Martin - which is set to equal its best finish from last year.
Didier Andre runs fifth in the ORECA-Aim while LMP2 leader Danny Watts is sixth for Strakka.
Marc Lieb remains in control of GT2 having extended his lead slightly over the Farnbacher Ferrari driven by Allan Simonsen. Richard Westbrook runs third in class BMS Porsche six laps ahead of the AF Corse Ferrari piloted by former F1 stars Jean Alesi and Giancarlo Fisichella.
Gabriele Gardel's Saleen is now just one hour away from becoming the last car to win a GT1 race at Le Mans as he retains a five lap lead over the Luc Alphand Corvette.