#8 Audi frustrated by small delays
| | |
| --- | --- |
| By Steven English | Sunday, June 13th 2010, 03:51 GMT |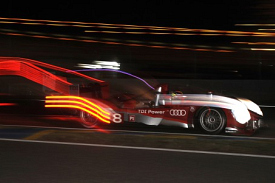 The crew of the #8 Audi has been frustrated by a series of small delays which have allowed the #9 sister R15 to move into a clear second place.
The two cars had been running closely throughout the night, frequently swapping second and third positions between them, but the #8 has now fallen more than two minutes behind.
Andre Lotterer had to bring the car back into the pits straight after a scheduled stop to replace a punctured tyre, and the car lost another 30 seconds at its last stop when there was a problem with the air jacks.
"We were doing really well except we had a slow puncture so I had to come back in, and another problem with the jack lost 30 seconds," Lotterer said. "It's a bit disappointing because we were having such a good session.
"Hopefully we can keep the podium in reach. I did five stints, which was a lot - the target is to do four but it depends if the tyres can do it. At night it is easier but now that it starts to come to daytime we have to see."
The #9 and #8 Audis are two laps behind the leading #2 Peugeot and two laps ahead of the recovering #1 Peugot and #7 Audi.