Q & A: Ullrich on #7 Audi's crash
| | |
| --- | --- |
| By Simon Strang | Saturday, June 12th 2010, 18:17 GMT |
Moments after Tom Kristensen went off at the Porsche Curves while lapping Andy Priulx, losing three laps and fourth position, AUTOSPORT caught up with an angry Audi Motorsport boss Dr Wolfgang Ullrich to get his feelings on the incident.
Q. Can you please explain your side of what happened?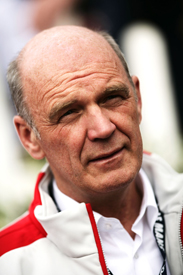 Dr Wolfgang Ullrich: There was a slow car on the track. I think it was Andy Priaulx in the BMW. Because he had a puncture he was limping home to the pitlane. And then he moved, in one of the fastest corners, from the right side of the track, to the left side of the track without looking into the mirror. Tom Kristensen came along and there was a car in the middle of the road going very slow. He tried to avoid it and went out.
Q. Was there any communication on the radio from Audi to Tom warning him that there was a slower car on the track ahead?
WU: How can I tell a driver what he sees?
Q. What did you say to Charly Lamm?
WU: I told him that he should talk to his drivers and tell them to look in the mirror to see what they are doing. Because this is not professional.
Q. Are you going to lodge any kind of protest?
WU: Oh come on, what does it help? We lost two laps for nothing.
Q. Is it still salvageable in any way. It's still very early in the race?
WU: Yes it is very early in the race, but I think with the pace that we have there is not even a second that we could afford to give away and here we are talking about two laps.
Q. Has Tom spoken to you about the incident?
WU: Yes and he is really angry.