H4: #1 Peugeot takes race lead
| | |
| --- | --- |
| By Stuart Codling | Saturday, June 12th 2010, 17:09 GMT |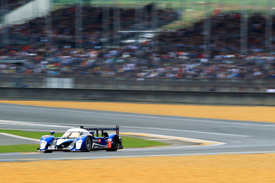 Anthony Davidson leads the Le Mans 24 Hours by a narrow margin from team-mate Stephane Sarrazin after four hours as Peugeot consolidates its lead of the race. Towards the end of the hour, both the lead 908s upped their pace slightly to around the 3m21s mark.
Davidson inherited the lead when Sarrazin pitted on lap 63, then stayed ahead when he pitted the following lap. The ORECA 908 remains in third, a minute and a half behind.
The #7 and #9 Audis pitted on lap 50, running fourth and fifth, a lap down. In a reversal of form from the previous stop, Tom Kristensen did not move over to allow Romain Dumas a clear run into his pit box, and both of them were slightly baulked as Wolf Henzler pulled away from his own stop in the #77 Felbermayr Porsche.
The Audis pitted again on lap 62 and Dumas struck a TV cameraman as he drove around Kristensen's stationary car. Dumas lost his right wing mirror during the accident, which saw the cameraman knocked off his feet, landing on his shoulder. He is currently being attended to by medics in the pitlane.
Aston Martin's #007 and #009 are still the quickest petrol-powered LMP1s, running in seventh and eighth with Adrian Fernandez and Sam Hancock at the wheel.
Danny Watts leads LMP2 in the #42 Strakka HPD by almost a lap from the Highcroft HPD of Marco Werner. Warren Hughes is a lap down in the #40 Ginetta-Zytek after an extended pitstop.
Jonathan Hirschi leads GT1 in the #60 Matech Ford GT by eight seconds from Xavier Maassen's #73 Corvette. The #52 Aston Martin that had been among the class frontrunners has dropped to fifth after Tomas Enge brought the car into the garage.
Gianmaria Bruni took the lead of GT2 in the Risi Ferrari, passing both the #64 and #63 Corvettes, which are now running second and fourth in class. Henzler has moved into third in the #77 Felbermayr Porsche.
The #78 BMW currently driven by Augusto Farfus is ninth in class after its earlier puncture. The #79 M3 lost 15 minutes in the pits undergoing repairs to the gearbox and floor when Dirk Muller suffered a puncture and ran over a kerb correcting the resulting spin.