H3: Trouble strikes lead Peugeot
| | |
| --- | --- |
| By Stuart Codling | Saturday, June 12th 2010, 16:08 GMT |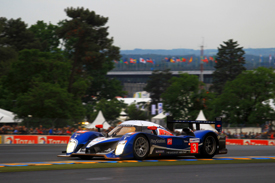 Peugeot remains in control of the Le Mans 24 Hours but has been shaken by a suspension failure on one of its 908 HDis.
Franck Montagny pitted on lap 37 with a 15-second advantage and handed over to Stephane Sarrazin. Pedro Lamy assumed the lead but on the very same lap he slowed on the Mulsanne Straight with smoke pouring from the front-right wheel.
The car was pushed back into the garage and subsequently retired. It is believed that a suspension pick-up pulled out of the tub. Anthony Davidson took over the #1 Peugeot from Marc Gene and resumed in second position.
"It was a good start, the same as last year for me," said Montagny. "I was just doing what I can do. It was good fun to drive but it's always difficult at the beginning - the circuit is changing quite a lot and the grip conditions are very different lap after lap. I'm happy with the car and what happened on track, but there is a long time to go."
The battle between the #4 ORECA Peugeot and the two quickest Audis continued to rage until the pitstops. Allan McNish cruised right up to the rear of the Peugeot on his in-lap before allowing the #8 Audi of Timo Bernhard to pass him at the pit entry, enabling the two R15s to enter their pit slots without obstructing one another. McNish handed over to Tom Kristensen (a break from Audi's declared policy of rotating its drivers in alphabetical order) and Romain Dumas took over from Bernhard. Dumas got away from the stop first but Kristensen overtook two laps later and the cars are now running fourth and fifth.
"I'm not disappointed [about the Peugeot's retirement]," said McNish. "At the end of the day, we've seen many things happen here, they crashed into each other here in pits last year and have had each other off fighting before. But there's a long time left yet."
The #42 Strakka Racing HPD ARX.01 still leads LMP2. Jonny Kane handed over to Danny Watts, who is currently in 16th place overall and leading the #26 Highcroft HPD driven by Marino Franchitti by over a minute. Kane has a blistered hip caused by chafing against his seat.
"It's not as painful as it looks," Kane told AUTOSPORT. "I think a pad must have moved around a bit so I was rubbing against the seat.
"The race is going really well. I'm pushing a bit but not being stupid. You have to keep a good pace or you can end up in dreamland. I managed to pull out a bit of a lead on the other HPD but obviously we don't know what their strategy is. We've got a set pace - an average lap time that all the drivers have been told to stick to. That's what we're going to do - what everyone else does is out of our hands."
The #60 Matech Ford GT shared by Thomas Mutsch, Romain Grosjean and Jonathan Hirschi leads GT1. Hirschi is 24s ahead of the #52 Aston Martin DBR9 driven by Tomas Enge, which in turn is 11s ahead of Xavier Maassen in the #73 Corvette C6.R.
The #70 Marc VDS Ford which had run second in class in the early stages crashed at the Dunlop Curves with Bas Leinders at the wheel. Leinders limped back to the pits with the car's rear bodywork missing and the rear right wheel hanging loose.
Chevrolet's Corvettes lead the GT2 class but all the frontrunners remain on the same lap. Olivier Beretta leads Johnny O'Connell by seven seconds, hotly pursued by the #82 Risi Competizione Ferrari driven by Gianmaria Bruni, which started from the rear of the grid. Bruni is reeling the Corvettes in by around 2s a lap.
The #81 Jaguar XKRS has been officially withdrawn.
"We've been having electrical problems all weekend," team owner/driver Paul Gentilozzi told AUTOSPORT. "There was something happening which we don't quite understand yet, so we're not sure how to fix it here."