Button mystified by afternoon problems
| | |
| --- | --- |
| By Pablo Elizalde | Friday, June 11th 2010, 20:32 GMT |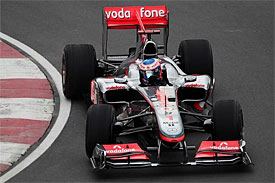 Jenson Button admitted he was mystified by his problems in the second practice session for the Canadian Grand Prix, having topped the times in the morning.
The McLaren driver went quickest in the opening session, but then struggled with the balance of his car and finished down in 11th position.
Button admitted he was unsure about the reasons for his problems.
The world champion also said the race will be interesting after all teams struggled to make their tyres last.
"I don't know, we need to find out, because we were competitive this morning, maybe running less fuel than most people, but," Button said of his problems in the second session.
"This afternoon I struggled with the balance a little bit, instability under braking.
"Then on the long runs it was a little bit emotional out there. The tyres aren't lasting very long. I ran with the Option tyre at the end with heavy fuel and it grained so much I came in, put the primes and went two or three seconds quicker than the other cars, which were running Option.
"Still, I started graining as well. We've got a few tyre issues, everyone is struggling with the same thing, so I think it will be a pretty interesting race to see what happens with strategies."
The Briton admitted he could not understand why he had lost grip in the second session, when the track was cleaner than in the morning.
"I actually lost grip this afternoon, so I'm guessing most people did go the other away. It's strange how I lost grip in the afternoon when there's a lot more rubber down, but we'll get to the bottom of that for sure."
He also believed his car was not running enough downforce, despite the circuit rewarding top speed.
"We think possibly we were a little bit too quick. Looking at our consistency we are struggling a little bit, so maybe we are not running enough downforce. But there's a lot of info we got from today.
"This morning was good and this afternoon wasn't so good so we have to work on that."