Logano doesn't regret confrontation
| | |
| --- | --- |
| By Diego Mejia | Friday, June 11th 2010, 19:08 GMT |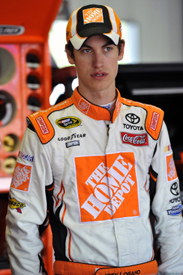 Joey Logano says he does not regret publicly confronting Kevin Harvick last weekend at Pocono, following contact between the two in the closing laps of the race.
The 20-year-old surprised many when he went to face the current NASCAR Sprint Cup Series points leader after he felt Harvick had ruined his chances of a top five finish by turning him sideways as they battled for fourth place.
Speaking at Michigan today, the Joe Gibbs Racing driver said he continued to have the same view on the incident, stating he was "done a wrong" by Harvick.
"I don't take nothing back," Logano said. "I'm a man of my word, I said what I had to, and that's it.
"You watch in on that tape, and it's pretty obvious to see what happened and I don't think I need to go into detail to say what happened.
"That's what NASCAR is. It's racing. Up to that point, you've got to have give-and-take, you've got to go back-and-forth to earn respect from these guys, but when it comes down to the end and you're racing for a top five, why would you roll over and die? You have to have that fire."
Logano refused to say his feud with Harvick is a closed matter. Besides racing together in the Sprint Cup, both also compete on a part-time basis in the Nationwide Series, where the 34-year-old races for his own team.
"You never know," Logano replied when asked if his feud with Harvick was over. "I'm not going to say it is. I'm not going to say it's not, but right now my main priority is to the get this car in the Chase and that's our number one goal."
Before Logano confronted Harvick in the pits, his father Tom pushed one of JGR's team members to allow his son to face his rival. He was later accused by a TV reporter of pushing him as well and NASCAR officials warned him following the incident. The young Logano backed his father's reactions following the race.
"He's a father, I love him to death, and he's there for me," Logano said. "That's something that is really cool and a lot of people don't have that. He's someone that's been by my side my whole life.
"It was a position that maybe he shouldn't have been there, but he's a father and I bet 99 per cent of the fathers would have been there anyway."
Logano's father reportedly had an incident with a PR representative of Harvick at Nashville, something that eventually contributed to their feud escalating from previous run-ins in the Nationwide Series.
Veteran Mark Martin, a long-time supporter of Logano, backed him despite admitting being surprised at his reaction following the race. He also supported Tom Logano's intervention in the post-race clash at Pocono.
"He's a firm, hard competitor that races fair with great intensity," said Martin. "It is unfortunate that he has had multiple run-ins with a couple of different drivers. I'm not sure exactly why that has happened. But, as far as after the race goes, I was surprised to see his ferocity.
"I loved seeing Tom Logano's reaction and I'm a Dad. And anybody who would criticise that, a lot of them aren't Dads. I have a son that competed, not only in racing, but in hockey too. Heck, I stood up one day, yelled at him, hit him with his stick when he was playing hockey and a kid's dad was standing next to me and I didn't care."
NASCAR officials have not taken any action against either driver.