Q & A: Mucke on Aston's chances
| | |
| --- | --- |
| By Stuart Codling | Friday, June 11th 2010, 16:10 GMT |
Aston Martin returns to Le Mans with a slightly more low-key LMP1 entry this year, frustrated by the performance differential between the diesel and petrol-powered prototypes.
Stefan Mucke set the marque's fastest time in the #007 entry early in the first qualifying session. He spoke to AUTOSPORT about Aston Martin's aspirations for the race.
Q. How satisfied are you with the overall performance of the car so far?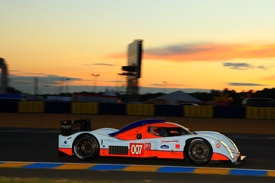 Stefan Mucke: It's good. We're very happy with it - we're absolutely where we hoped to be. We know we don't have a hope of fighting against the diesels.
My lap wasn't really a clear one. I had some big traffic. So the performance is quite good and we have a good race set-up - actually, the majority of the work we did yesterday was just to improve the race set-up.
Q. Was that why you didn't improve your time in the second and third qualifying sessions?
SM: We set the time at the beginning of qualifying on Wednesday, just to get a time. Even with the rain the track wasn't too bad yesterday, especially at the end. For sure we could have set a better time, but it doesn't matter if we're two or three seconds behind the Audis – our plan was to get a good race set-up and give Adrian [Fernandez] and Harold [Primat] more time in the car.
Q. You're faster than the other petrol-powered prototypes by quite a margin. Has there been any development on the car since last year?
SM: I'm also a bit surprised that the gap is so big. We're about half a second faster than our best time in qualifying last year, mainly I think because of the new surface in the Porsche Curves, but I'm surprised that the other cars are that much slower than us. I don't know why that is.
Our car is basically the same as last year, with just a few little improvements to help reliability. It's built for Le Mans – we have problems on the tiny circuits but here it's just right.
Q. Some drivers are saying that although the new surface on the Porsche Curves has more grip, there's a big difference when you get off line. Have you found that?
SM: Yes, yes. I also found that when the track was wet yesterday [Thursday] it took ages to dry out. When I walked the track on Tuesday I thought that section would be quite quick to dry because of the open surface, but it isn't. It stays wet for a long time and it's very slippery when damp, maybe because oil is seeping out of the asphalt.
The racing line is fine, it's quite nice to drive and it's a bit higher, so the kerbs are flatter and the exit is better. It's also safer.
Q. What is a realistic target for a finishing position?
SM: It's very difficult to say. For sure the target is to be the best petrol car and then we'll just have to wait and see what happens to the diesels. It doesn't look like they'll fight too much against each other because the Peugeots are quite a big step ahead of the Audis, so they may make fewer mistakes – which doesn't help us. Last year fourth place was brilliant but I'm not sure we'll do it again.
Q. You've got a large V12 engine – what's your fuel consumption like compared with the V8s and V10s?
SM: Last year we were not so good on this. We've made some improvements but it depends on the driver. It may be that we're not better than last year, or it may be that we can do a lap more. It's very close and we can't calculate it at the moment. We have to see how it goes in the race – what the speeds and temperatures are. But we're close to being able to do a lap more than last year.
Q. How many laps were you doing between stops last year?
SM: I think we were doing 11 or 12.
Q. What effect will the ambient temperatures have on your fuel consumption?
SM: When it's cooler the engine needs more fuel because it's taking in more air, so it doesn't help us. Hot conditions are better because of that, and also because the lap times are slower, which also means you use less fuel. That's also why it depends on the driver.