Audi: Closed-top car not an option
| | |
| --- | --- |
| By Ben Anderson | Friday, June 11th 2010, 15:23 GMT |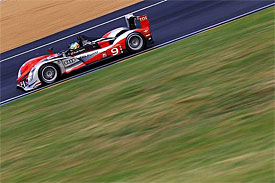 Audi says it had 'no option' to build a closed-top car for this year's Le Mans 24 Hours, despite main rival Peugeot's design appearing to have the edge once more at the Circuit de la Sarthe.
Audi Sport technical director Ralf Juttner said the marque had originally planned to run its R15 for two years so could not make radical design departures with its R15 plus for this season.
He said Audi had lost the biggest advantage of its open-top design thanks to rule changes made by Le Mans organiser, the ACO, ahead of last season's Le Mans Series.
He said the changes, which limit the number of mechanics allowed to work on a car during pitstops to two, have hurt Audi's ability to make up time in the pits with rapid driver changes.
"With the R15 plus there was no option to build a closed car. That would have needed a new monocoque," Juttner said.
"If you make your decisions on these things in November and then the rules change, there's no way you can do that work knowing there will be more change in 2011, so we are not happy with the ACO on that point.
"The biggest advantage of the open-top design is [the speed of] driver changes. That was a big point for us and the ACO has made a big impact.
"Under the old rules, Peugeot had pitstops where their mechanics were ready before the drivers, but not now."
The closed-top Peugeot 908 TDIs set a blistering pace during practice and qualifying for tomorrow's race and will start the event as favourites to land the French marque its second consecutive 24 Hours win.
Juttner said the open-top R15 plus design still offers Audi's drivers some advantages in terms of visibility, especially in wet conditions, but costs them heavily in terms of aerodynamic efficiency.
"The advantage of a coupe is not so little - it has better aero," said Juttner. "You have less drag and you can control the airflow. You can have more rear wing for the same amount of drag and make the car more efficient.
"In the rain [the open-top car] is better. You don't have a misting screen or the need for window wipers. It's a lot of effort to make it work, which Peugeot has done. But if you get oil on the windscreen you are in the s***! The drivers will have to come into the pits and can't run their fuel tank to empty."