Schumacher now looking towards 2011
| | |
| --- | --- |
| By Edd Straw and Matt Beer | Thursday, June 10th 2010, 20:06 GMT |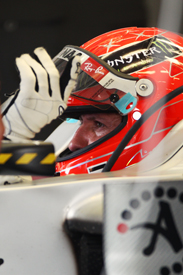 Michael Schumacher says he now regards the rest of the 2010 season as preparation for 2011, with Mercedes looking unlikely to be a factor in this year's championship battle.
The seven-time champion has yet to finish on the podium since returning to the sport, and is ninth in the championship at present - 59 points behind leader Mark Webber.
Schumacher admitted he had initially hoped to be a title contender from the outset, but was now taking a longer term view.
"You think in terms of the championship, that's what is my aim and my focus," he said. "But then at one point you understand that your package is where it is and from there on you have to do a certain programme and process and that's what we are going through.
"The year is still long. I don't think on my side that I'm really in a position to win the championship, it's more building up and organising things for what happens from next year onwards. But you never know, it's still a long year with many points to give."
He insisted he was happy with the progress Mercedes had made so far.
"We are in a build-up process with the team that is going extremely well," said Schumacher. "I'm very happy with how we work together, how we progress. We don't have the package to be in front right now, and after winter testing it was not expected to be. But when I see where we are going, it's very good."
The German added that the Mercedes had not yet allowed him to recapture the feeling he had when on his best form in his initial career.
"Sometimes you have these very special races and moments where things really fit together perfectly and we are not there yet," Schumacher said. "I know I am coming there.
"It's part of the reason that I'm doing this, to get to that point. But you need certain ingredients and we are still searching for those."