Peugeot still dominant in qualifying
| | |
| --- | --- |
| By Steven English | Thursday, June 10th 2010, 19:12 GMT |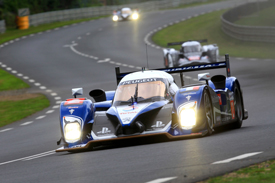 Peugeot is still on course to sweep the front two rows of the grid after the second of three qualifying sessions for the Le Mans 24 Hours.
The two-hour session began on a damp track following a downpour this afternoon. Although it dried throughout, most teams elected to practice pitstops and driver changes early on, and no competitive times were set until well into the second hour.
A flurry of improvements inside the last quarter of an hour jumbled some places down the order, though the frontrunners remained as they were after Wednesday's night session.
Alexander Wurz looked on course to challenge Sebastien Bourdais' pole time from Wednesday, posting several purple sector times towards the end of the session.
Three-time Le Mans pole-sitter Stephane Sarrazin hopped into the #2 Peugeot for the final run and he too came close to challenging Bourdais' benchmark, but both he and Wurz ran into traffic towards the end of their laps and failed to improve.
Marco Andretti put the #12 Rebellion Lola in a provisional 19th after the car failed to set a time during Wednesday's qualifying session.
David Brabham snatched the provisional LMP2 class pole for the Highcroft Racing HPD, pulling out a 3m34.537s to move 1.6 seconds clear of the Strakka HPD. The ASM Ginetta-Zytek remains a distant third.
The GT1 class-leading Young Driver Aston Martin only emerged for the last 15 minutes of the session with Tomas Enge behind the wheel, but held its top spot by just 0.3s from the Marc VDS Ford GT, which moved ahead of the #60 Matech Ford.
Toni Vilander lifted the sole remaining AF Corse Ferrari to second in the GT2 class, behind #82 Risi Ferrari which Gianmaria Bruni put on provisional pole yesterday. The #63 Corvette is now third, behind Vilander.
The second AF Corse Ferrari, of Mika Salo, Matias Russo and Luis Companc, has been withdrawn from the event following the damage sustained to the car in Russo's accident at the Porsche Curves last night.
Incidents this evening included a crash for Jean-Christophe Boullion at the Porsche Curves in the #13 Rebellion Racing Lola. Jacques Nicolet also spun the #34 Oak Racing Pescarolo at the final chicane after contact from Stephane Salini in the WR-Zytek.
Manuel Rodrigues had a spin in the #14 Kolles Audi R10 with the nose just kissing the barrier, and Mike Newton spun the #25 RML Lola on his out-lap inside the last 10 minutes.
The Drayson Lola stopped at the pitlane exit with an electrical problem, but Jonny Cocker managed to restart and coax the car back to the pits. The Spyker and the #15 Kolles car also suffered from mechanical niggles.
The JMW Motorsport Aston Martin sat out the session while having a new engine and gearbox fitted.
Pos Drivers                       Cls Car                Time     Gap
 1. Lamy/Bourdais/Pagenaud        P1  Peugeot 908        3:19.711
 2. Wurz/Davidson/Gene            P1  Peugeot 908        3:20.317 +0.606
 3. Montagny/Sarrazin/Minassian   P1  Peugeot 908        3:20.325 +0.614
 4. Panis/Lapierre/Duval          P1  ORECA Peugeot 908  3:21.192 +1.481
 5. Bernhard/Dumas/Rockenfeller   P1  Audi R15           3:23.578 +3.867
 6. Fassler/Lotterer/Treluyer     P1  Audi R15           3:24.430 +4.719
 7. Kristensen/McNish/Capello     P1  Audi R15           3:24.688 +4.977
 8. Mucke/Fernandez/Primat        P1  Lola-Aston Martin  3:26.680 +6.969
 9. Turner/Hancock/Barazi         P1  Lola-Aston Martin  3:26.747 +7.036
10. Mailleux/Ragues/Ickx          P1  Signature Aston    3:29.774 +10.063
11. Ayari/Andre/Meyrick           P1  ORECA 01-AIM       3:30.056 +10.345
12. Bouchut/Tucker/Rodrigues      P1  Kolles Audi R10    3:30.907 +11.196
13. Jarvis/Albers/Bakkerud        P1  Kolles Audi R10    3:31.661 +11.950
14. Brabham/Franchitti/Werner     P2  Highcroft HPD      3:34.537 +14.826
15. Watts/Kane/Leventis           P2  Strakka HPD ARX-01 3:36.168 +16.457
16. Pirro/Cocker/Drayson          P1  Drayson Lola       3:36.634 +16.923
17. Mansell/Mansell/Mansell       P1  Beechdean Ginetta  3:36.897 +17.186
18. Belicchi/Boullion/Smith       P1  Rebellion Lola     3:37.093 +17.382
19. Jani/Andretti/Prost           P1  Rebellion Lola     3:41.007 +21.296
20. Hughes/Amaral/Pla             P2  ASM Ginetta-Zytek  3:41.968 +22.257
21. Moreau/Charouz/Lahaye         P2  Oak Pescarolo      3:42.399 +22.688
22. Lewis/Burgess/Willman         P1  Autocon Lola-AER   3:43.167 +23.456
23. Erdos/Newton/Wallace          P2  RML Lola HPD       3:44.598 +24.887
24. Pirri/Cioci/Perrazzini        P2  Racing Box Lola    3:47.971 +28.260
25. Hein/Nicolet/Yvon             P2  Oak Pescarolo      3:52.730 +33.019
26. Schell/da Rocha/Zollinger     P2  Pegasus Norma      3:52.837 +33.126
27. Noda/Pourtales/Kennard        P2  KSM Lola-Judd      3:52.972 +33.261
28. Enge/Nygaard/Kox              GT1 YD Aston           3:55.025 +35.314
29. Leinders/Palttala/de Doncker  GT1 Marc VDS Ford GT   3:55.356 +35.645
30. Greaves/Ojjeh/Chalandon       P2  Bruichladdich      3:55.680 +35.969
31. Salini/Salini/Gommendy        P2  WR/Salini WR       3:55.818 +36.107
32. Rostan/Meichtry/Bruneau       P2  Race Perf Radical  3:56.679 +36.968
33. Grosjean/Mutsch/Hirschi       GT1 Matech Ford GT     3:57.296 +37.585
34. Jousse/Gouselard/Massen       GT1 Alphand Corvette   3:58.810 +39.099
35. Policand/Gregoire/Hart        GT1 Alphand Corvette   3:58.906 +39.195
36. Bruni/Melo/Kaffer             GT2 Risi Ferrari       3:59.233 +39.522
37. Alesi/Fisichella/Vilander     GT2 AF Corse Ferrari   3:59.837 +40.126
38. O'Connell/Magnussen/Garcia    GT2 Corvette           4:00.097 +40.386
39. Gavin/Beretta/Collard         GT2 Corvette           4:01.012 +41.301
40. Lieb/Lietz/Henzler            GT2 Felbermayr Porsche 4:01.640 +41.929
41. Pilet/Narac/Long              GT2 IMSA Porsche       4:01.755 +42.044
42. Farfus/J Muller/Alzen         GT2 BMW M3             4:01.893 +42.182
43. Westbrook/Scheider/Holzer     GT2 BMS Porsche        4:02.014 +42.303
44. Bergmeister/Law/Neiman        GT2 Fl. Lizard Porsche 4:02.685 +42.974
45. Gardel/Berville/Canal         GT1 Larbre Saleen      4:03.175 +43.464
46. Priaulx/D Muller/Werner       GT2 BMW M3             4:03.215 +43.504
47. Farnbacher/Simonsen/Keen      GT2 Hankook Ferrari    4:03.886 +44.175
48. Krohn/Jonsson/van de Poele    GT2 Risi Ferrari       4:03.959 +44.248
49. Coronel/Dumbreck/Bleekemolen  GT2 Spyker             4:04.057 +44.346
50. Yogo/Iiri/Yamanishi           GT1 JLOC Lamborghini   4:05.796 +46.085
51. Allemann/Gachnang/Frey        GT1 Matech Ford GT     4:06.286 +46.575
52. Bell/Sugden/Miller            GT2 JMW Aston Martin   4:06.391 +46.680
53. Felbermayr/Felbermayr/Konopka GT2 Felbermayr Porsche 4:10.054 +50.343
54. v.Splunteren/Hommerson/MachielGT2 Prospeed Porsche   4:11.161 +51.450
55. Goossens/Dalziel/Gentilozzi   GT2 Jaguar XKR         4:13.537 +53.826
56. Salo/Russo/Companc            GT2 AF Corse Ferrari   withdrawn