Q & A with Mark Webber
| | |
| --- | --- |
| By Jonathan Noble | Thursday, June 10th 2010, 17:33 GMT |
The Turkish Grand Prix collision between the two Red Bull drivers continued to dominate paddock conversation as Formula 1 reconvened in Canada.
AUTOSPORT heard Mark Webber's thoughts on the issue two weeks on.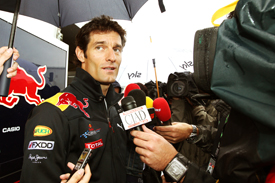 Q. You've had time to reflect on Turkey. What do you say about it all now?
Mark Webber: The same as I said on Sunday. Nothing has really changed. It was a tough day for the team. Unfortunate. Move on.
Q. What did you think of Max Mosley's comments in support of Sebastian Vettel?
MW: Everyone has their opinion. Who knows?
Q. But the fallout from the crash has not appeared to make any difference to you, as you've signed a new one-year deal?
MW: Yeah, that's right. On Friday in Barcelona we were very close to getting things done. Obviously Barcelona went very well for me.
Look, I'm bloody comfortable in the team, and have been since I arrived. When Seb arrived there was some nice momentum, a young, new charge and all that sort of stuff, which was good. I've just kept my head down and tried to do my job. It's turned out pretty well for me this year, and the team have, to be honest, been great to both of us, and that's why we've a good package. We're pushing each other, and it's been good.
Q. How's the relationship with Helmut Marko now, because he was very quick to criticise you after the Turkey crash?
MW: Helmut wasn't fully up to speed with all the facts at the time. He went pretty quick with his comments, which he's learned from and will move on. I had a good chat with Helmut at the factory. He's fine.
He brought Seb along, he speaks the language, so you can expect a bit of emotional support that way. But I'm fine with that. Helmut has been... there are a lot of things that have happened with this team through his support, and I've been off the back of that as well.
It's been a great story for all of us, what's happened here. There are a lot of teams in the pitlane who would give their right arm to have what happened to us in Turkey. It was, as I said at the time, a bit of an f-up. You never want to touch anyone on the track, or have a potential retirement, let alone with your team-mate. It's not easy fighting with your team-mate for the lead of the race and the world championship - but that's what happened on the day.
Q. There's a bit of confusion as to whether you were told to turn your engine down...
MW: There's no confusion at all. It is straightforward. I turned my engine down because I had to save a bit more fuel. I asked what position Seb was in with his fuel. I didn't need much clarification because I knew he was all over me.
He had saved a bit of fuel in the slipstream, so he had a few more laps of better fuel mixture. We raced each other and we know what happened. It all happened in 70 seconds. Everything was fine, then in 70 seconds it was all over. It happened fast.
Q. So there's no lingering bad feeling
MW: I'm cool, absolutely fine. I'm totally over it and ready to go this weekend. I'm looking forward to getting back on the track.
Q. What was Dietrich Mateschitz's take on it? Was he cool?
MW: I don't know if he was cool about it, but I had a very positive phone call with him very quickly on Monday morning when I landed, and he was, as he has always been with me - very, very good, fair, loyal, so that was another reason why I have good belief in the team. Dietrich obviously had his opinion, which was fine for me.
Q. With your new contract signed, did you seek, or were you given any assurances, regarding equality?
MW: Nothing has changed in any of the contracts since I've been here, ever. It's always been straight up. At this stage in my career I would never hang around for another season if I didn't think I was going to get a fair crack, so it's all good.
Q. In the future is it possible at all to attack the other?
MW: Yeah, we need to race each other still.
Q. But is it possible knowing what happened? Do you have to be even more careful?
MW: Sometimes when you are even more careful, different things happen. It was such a fine line what happened. The result wasn't great, one car didn't finish, and in the future there is a big chance we will race each other again.
Our judgement, as Formula 1 drivers, needs to be correct, whether I'm lapping [Karun] Chandhok or racing Seb for the lead of the race. Always, as drivers, we are doing what we can to make the right calls from the cockpit, as I have done for most of my career. When you are racing at the front week in and week out sometimes you are going to have some action.
Q. Did you have a chat back at the factory with Sebastian?
MW: Yeah, but we didn't talk too much about the incident.
Q. Did you expect him to say sorry?
MW: It happened so bloody quickly. As I said at the time, I was a bit surprised at what happened, but that's how it was. Obviously I was disappointed with the consequences. Absolutely. Moving on from there, we can talk as much as we want about it, but it doesn't change anything.
Q. Will you give more room in the future if he attacks?
MW: Or vice versa. We will see. Every situation is different. We've had Malaysia, China, stuff last year.
Q. Is it impossible to set up certain rules?
MW: I think also the fans want drivers to race each other as well. The team has done its best to keep us driving at the front and when you are spending every fortnight on the same row of the grid together, potentially racing each other all the time you are going to be close to each other.
We try to get the balance right for us - and also the individuals in the team. Milton Keynes is working for both of us, and Renault, everyone, is working hard together and they want the best results out of whatever car that is.
Q. Do you believe with your experience, and the fact you have been involved in the sport a bit longer, does that give you an edge over Sebastian when it comes to dealing with something like this?
MW: Seb hasn't been 33 yet. I have been 21 and I am 33. For sure, all of us, we gain different experiences along the way and what he has achieved for his age is incredible - we know that. He has come along and he has been a real talent for F1 – very exciting. I have certainly had tougher days than Turkey in my life that is for sure. But, I woke up Monday morning not feeling for myself but feeling for the team. That is who I really felt for. Once we had our chats we were over it – and we move on.
Q. Did you feel for the team because McLaren in Turkey were a bit closer?
MW: Of course they were there to capitalise. That wasn't ideal. We expected them to be pretty strong in the race and they were. I think it was still going to be pretty difficult for McLaren to beat us in the race. They were quick but for us to be sitting there saying we will just have weekends like Barcelona and Monaco and blowing everyone away was also unrealistic. We have to work for victories.
And McLaren, yes they were handed their first normal grand prix race win if you like – and hats off to them. They did a good job, but long, long way to go. The effort that goes into getting cars prepared for a grand prix weekend off the back of back-to-backs in Barcelona and Monaco, and then getting the cars to Turkey. It was tough for the team to miss an opportunity – irrespective of who gets those points. In this car it was McLaren.
Q. Are you concerned that Red Bull Racing hasn't made the most of its opportunities?
MW: I think everyone has missed opportunities – every single team.
Q. But you've had seven poles and should have had more points than you have?
MW: Yeah. Absolutely. But it is a strength of our car, it is a very good one, that we have worked on and understood. We have worked hard on that and it is a strength – and getting Sunday afternoons executed, particularly in Melbourne and Shanghai, if they were dry normal grands prix then maybe we would have had different results there. But that is the way it goes. Malaysia was strong.
There is a long way to go in the championship. We are one point off the constructors' [lead] – and there are certainly other teams in the pitlane that have underperformed more than we have.
Q. How much does it compromise your approach to the optimum strategy for the weekend having to race your team-mate? And, the way you read it, is McLaren is the same boat?
MW: Of course they are. As far as I can see, they are doing what they can. They obviously got themselves in a bit of a pickle in the last part of the race with a bit of a breakdown in communications, so it can happen when you've got two guys who are on the track around each other. And it is a bit of a nightmare for the team to be honest because the management certainly gets some grey hairs over it, and it is not without added stress. There is a little bit for the driver as well because an error of judgement has more consequences than perhaps clipping someone else.
So I think strategy wise, it is another car that you are racing so you have to look into that. There is another car there – and you have to try and deal with it as normally as you possible can. If I get second on the grid I am disappointed I didn't get pole – it might be Seb, it might be Hamilton. It is another car – and you could say it is fine because it is him, but it is not. Every car has the same value in terms of trying to get ahead of them.