No new-car worries for Chevrolet
| | |
| --- | --- |
| By Stuart Codling | Thursday, June 10th 2010, 15:23 GMT |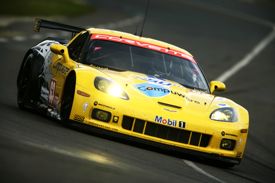 Chevrolet is relaxed about its prospects for the Le Mans 24 Hours despite having to build an entirely new Corvette for the GT2 regulations.
"We're going to run this race the way we've always run it," said Corvette programme manager Doug Fehan, "and that's to hammer it from the get-go.
"We need to keep it on the racetrack, not hit anything and not break anything. If we do all of those then we'll take the result the race gives us. Le Mans is not a race that you conquer; Le Mans decides what it's going to give you."
Chevrolet elected to switch to GT2 after nearly a decade at the top of the now-moribund GT1 category. Although the Corvette is not a volume seller in European markets, Chevrolet values the car and its race programme as a branding statement.
"They're completely different cars from the ground up. They weigh about 100 kilos more than GT1 cars, they have smaller front splitters and smaller rear wings, they have about 100 less horsepower and steel brakes instead of carbon brakes. Those are the differences in a nutshell.
"It's got a completely different engine package, too. We originally built this car to what were going to be the 2010 engine regulations, and when we looked at the balance of performance chart with restrictor size and displacement, we thought 5.5-litre would be a good choice. It very closely resembles what we build for the production cars.
"A brand new chassis and a brand new engine is a challenge for anybody, but we're as well prepared as we can possibly be."